Ribbons and trim
Gertie & Mabel
Welcome to Renaissance Ribbons: We are a wholesale ribbon design and manufacturing company: Log in or Sign Up buy wholesale ribbons online woven jacquard ribbons
Buy Wholesale Ribbons and Trims, Woven Jacquard Ribbon & French Ribbon
PBTex
Sewing Craft Limited ::. sewingcraft.com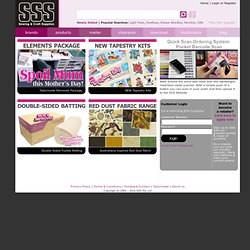 Search Capabilities. Brands Product codes Descriptions in any order Phrases and product types Barcodes Auto-fill: As text is entered in to the search box, a drop down box may appear, giving a selection of suggested phrases or stock codes. These selections can be clicked on.
Welcome to Rosebank Creations Here you will find a stunning array of flowers, ribbons, trims and patterns. A simply perfect addition to any business. Please feel free to browse our extensive range of products and do not hesitate to contact us if you have an order or pricing enquiry.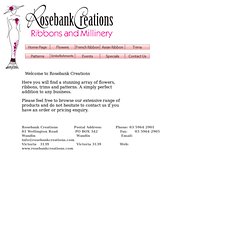 rosebankcreations
Atelier de Happa - craft from Japan Sashiko, crochet threads, purse bag handles lots more!
Buttonmania
Butler Manufacturing Co.
Welcome, and thank you for taking some time to view our new website. For over 20 years, Cotton On Creations has placed a strong emphasis on supplying quality products to all of their valued customers, as well as providing prompt, courteous and efficient service. Our website shows all product ranges (including colour cards and display stands where applicable), covering Patchwork, Quilting, Embroidery, Needlework, Ribbon Embroidery, Heirloom and other related crafts. Please do not hesitate to contact us with any enquiries as our fully trained staff are keen to assist and give helpful advice. Happy browsing!
Cotton On Creations - threads lace needles buttons
Online
Welcome to Expo International Inc. We are celebrating over 30 years of business in the textile industry! Expo International (or simply Expo as we are widely known) is a wholesale supplier of trims, tulle, appliques, beads, tassels, tiebacks, fashion accessories, home decor, and much more! We currently have over 10,000 items available and we add new items regularly! (Hint: the search box is the fastest way to find an item you are looking for) Prices listed are retail prices.
Wholesale Trims, Appliques, Beads, Crafts - Expo International, Inc.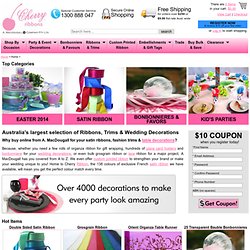 Wedding Decorations | Party Decorations | Ribbons & Trims | A. MacDougall and Company Pty Ltd
Register now and enjoy the benefits of: Affordable pricing on all of our ribbons, lace, trims, embellishments & wedding decorations Reliable delivery of wedding decorations Sydney, Melbourne, Brisbane etc. 24 hour order processing Large stock selection Fornightly deliveries from exclusive French suppliers Special offers and savings Click here to register It is our hard work and dedication which has established us as one of Australia's leading party, event & wedding decorations provides as well as packaging and gift wrap specialists. We are now widely respected suppliers of bonbonniere in Melbourne, Sydney, Adelaide, Brisbane, Perth & Hobart and our range of lace, trims, ribbons, bonbonniere, wedding & party decorations has people returning to us over and over again.