Fabric
Your destination for delightful fabrics and handmade goods
Two Blue Birdies - High Quality Fabrics
Hawthorne Threads - Amy Butler, Joel Dewberry, Michael Miller & More
Fabrics | Cotton Fabrics | Fabric Online | Quilting Fabric | Textiles | Fabric Traders
:: Textile Museum ::
Moda Fabrics - Producer of Quilting Fabric, Sewing Notions, and Home Decor
B&M Felt / B&M Twine Online Store - Welcome - Suppliers of 100% wool craft and design felt.
FilzFelt | Welcome
Welcome to Clarke & Clarke
Paper Thread Fabrics
ALL FABRICS at Liberty
Home
Welcome – St. Jude's Fabrics
Villa Nova - Upholstery Fabrics, Weaves, Prints & Wallcoverings
The Vintage Fabric Market - Vintage Fabric, Clothing and Collectables
Fabric Information and Facts
Discount Fabrics: Fabric for Apparel, Home Decorating and More
Fabrics , Trims , Notions - Trim Fabric Online Store - Shop Now while supplies last!
Please visit our Clearance section first.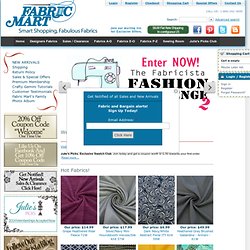 Fabric Mart
Australian Sewing Guild Inc. - Sharing and furthering the art of sewing
Amy Butler
Stitchbird Fabrics - Gorgeous contemporary, retro and vintage fabrics
Tessuti Fabrics - Beautiful fabrics in Sydney, Australia and our Online Store | Tessuti Fabrics
Gorgeous Fabrics
Art Gallery Fabrics
Largest selection of Oilcloth in Australia
Fabrics to Inspire - Kelani Fabric
AMITIE TEXTILES | ONLINE FABRIC STORE
Threadbear - Patchwork and Quilting
Gails Patchwork Emporium
Ballarat Patchwork | Quality fabrics and quilting supplies