Fabric
Your destination for delightful fabrics and handmade goods
Two Blue Birdies - High Quality Fabrics
We are offering a Cloud9 Enchanted fat quarter bundle for this weeks giveaway! For details on this giveaway, click here. What a Gem by Allison Cole (Late April) Arizona by April Rhodes (May) Beauty Queen by Jennifer Paganelli (May)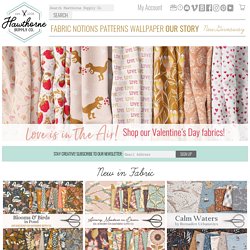 Fabrics | Cotton Fabrics | Fabric Online | Quilting Fabric | Textiles | Fabric Traders
:: Textile Museum ::
Moda Fabrics - Producer of Quilting Fabric, Sewing Notions, and Home Decor
B&M Felt / B&M Twine Online Store - Welcome - Suppliers of 100% wool craft and design felt.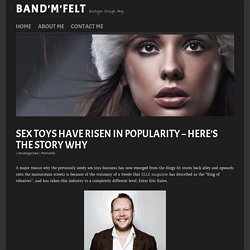 A few months ago I had the privilege of assisting my good friend Andrea Smith visual artist and contracted web designer for Females Pleasure vibrators which is an exclusive Australian retailer selling designer lelo vibrators online for the female market. I helped to produce her latest work for a recent exhibition in Fitzroy, Melbourne, titled 'Nude Covers'. The work progresses her interest in the connections between erotic art, retail and domestic spaces, and the material qualities and associations of objects in these environments.
FilzFelt | Welcome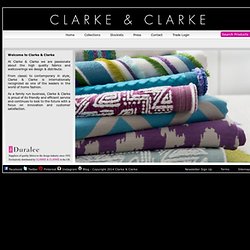 Welcome to Clarke & Clarke At Clarke & Clarke we are passionate about the high quality fabrics and wallcoverings we design & distribute. From classic to contemporary in style, Clarke & Clarke is internationally recognized as one of the leaders in the world of home fashion. As a family run business, Clarke & Clarke is proud of its friendly and efficient service and continues to look to the future with a focus on innovation and customer satisfaction.
Welcome to Clarke & Clarke
Paper Thread Fabrics
Home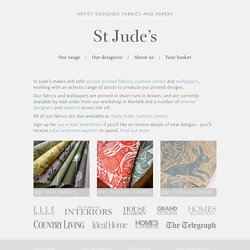 Welcome – St. Jude's Fabrics
St Jude's makes and sells unique printed fabrics, cushion covers and wallpapers, working with an eclectic range of artists to produce our printed designs. Our fabrics and wallpapers are printed in short runs in Britain, and are currently available by mail order from our workshop in Norfolk and a number of interior designers and retailers across the UK. All of our fabrics are also available as ready-made cushion covers. Sign up for our e-mail newsletter if you'd like to receive details of new designs - you'll receive a £10 welcome voucher to spend. Find out more
Villa Nova - Upholstery Fabrics, Weaves, Prints & Wallcoverings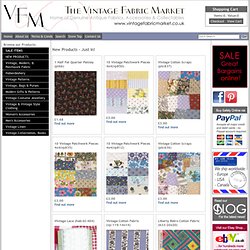 Welcome to The Vintage Fabric Market If you, like us, are seduced by the charm of vintage fabrics, fashions and accessories, The Vintage Fabric Market offers a world of exciting discoveries. For people who value their individuality, there are vintage bags, linens and garments to choose from. Nearly all our items are unique or of limited availability. There is also a craft section where you can buy vintage fabrics and haberdashery to create your own unique style. We now offer NEW departments where you can purchase modern fabrics and gifts, with additional vintage style fashions which are designed in-house.
The Vintage Fabric Market - Vintage Fabric, Clothing and Collectables
Denver Fabrics Our site offers a wide range of fabric, including a large and varied inventory of designer fabric like silk, wool, linen, imported shirtings and Ultrasuede. We also have an extensive selection of bridal fabric. Our site also offers fabric for dancewear, swimwear, skating costumes, nursing scrubs, rug hooking, draperies, upholstery, slipcovers, tablecloths, pillows, car seats and boat covers. Of course, many of our fabrics, like our vinyl fabric, faux leather (we also have real leather), velvet, denim, eyelet and batiste are also well suited for craft projects.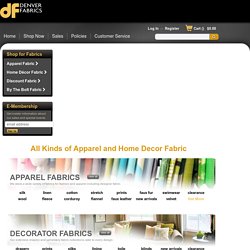 Fabrics , Trims , Notions - Trim Fabric Online Store - Shop Now while supplies last!
Fabric Mart
Australian Sewing Guild Inc. - Sharing and furthering the art of sewing
Amy Butler
Tessuti Fabrics - Beautiful fabrics in Sydney, Australia and our Online Store | Tessuti Fabrics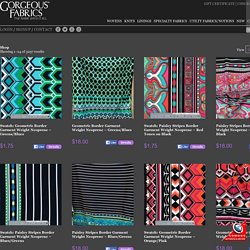 Gorgeous Fabrics
Showing 1–12 of 4272 results Swatch: Textured Matellassé 4Way Knit – Bubblegum$1.75 Textured Matellassé 4Way Knit – Bubblegum$16 Swatch: Desert Chevrons Neoprene SCUBA Knit – Reds$16 Desert Chevrons Neoprene SCUBA Knit – Reds$16 Swatch: Ziggy Matellassé Double Knit – Purple/Black$1.75 Ziggy Matellassé Double Knit – Purple/Black$16 Swatch: Water Chevrons Neoprene SCUBA Knit – Blues$1.75 Water Chevrons Neoprene SCUBA Knit – Blues$16 Swatch: Stretch Cotton Piqué – Blue Aster$1.75 Stretch Cotton Piqué – Blue Aster$16 Swatch: Italian Stretch Tropical Wool – Wine Tasting$1.75 Italian Stretch Tropical Wool – Wine Tasting$22
Art Gallery Fabrics
Largest selection of Oilcloth in Australia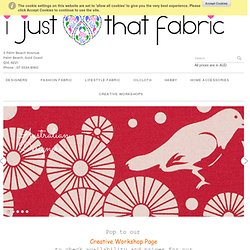 The LifeStyle Fabric Store - Palm Beach Our lifestyle fabrics are suitable for all applications, whether you are making cushions, reupholstering an old family chair, running up a pair of curtains, making childrens clothing, you will find what you want here. Purchasing is as easy, just click and buy or pop into our fabulous Gold Coast Store, or place your order over the phone to one of our lovely girls. All our fabrics are available from 1/4 metre, if you love quilting you will find these beauties in our Fashion Fabric Collections.
Kelani Fabric stems from a passion for unique contemporary, modern fabrics! Kelani Fabric offer a large and inspiring range of fabrics suitable for home decorating, children's decor, womens and childrenswear, bagmaking and other craft and sewing projects. Along with Japanese fabrics and designer fabrics from around the world, Kelani Fabric is particularly proud to stock an extensive range of unique and wonderful Australian designer fabrics which are hand screen printed on an array of lovely natural and organic basecloths. Fabrics are sold by the metre and part metre and a custom made cushion and lampshade service is also available.
Fabrics to Inspire - Kelani Fabric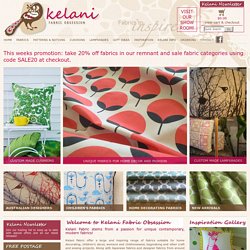 Amitié Textiles carries a huge range of inspiring fabrics suitable for patchwork, dress making, quilting, home décor and other craft and sewing projects. We specialize in Japanese and international designer fabrics that appeal to the young in years and young at heart. Our fabrics appeal to both the sophisticated and the traditional sewist. Service for our online and in-store customers is important to us. Because of this, our staff is carefully chosen for their sewing skills, and their commitment to provide the best shopping experience to our customers. Whether you need assistance in choosing a fabric, or help with your latest sewing project, we are always happy to help.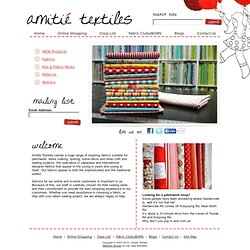 AMITIE TEXTILES | ONLINE FABRIC STORE
Threadbear - Patchwork and Quilting
It's all happening at Threadbear this month! We are welcoming visitors from far & wide to Castlemaine for our Appliqué Group's first ever exhibiton ~ all very exciting. Our shelves are bulging with new fabrics for you to consider. Some of them are: Jo's Prairie Rose, American Gothic, Little Black Dress, Inkwell, Judie's Authentic Miniatures, Romantic Renaissance, to name but a few.
Gails Patchwork Emporium
Ballarat Patchwork | Quality fabrics and quilting supplies