Beef
Quick and Easy Taco Dip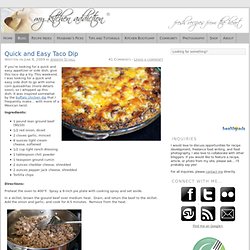 If you're looking for a quick and easy appetizer or side dish, give this taco dip a try. This weekend, I was looking for a quick and easy side dish to go with some corn quesadillas (more details soon), so I whipped up this dish. It was inspired somewhat by the buffalo chicken dip that I frequently make… with more of a Mexican twist.
Mongolian Beef - Chinese Cooking - a Recipe for Mongolian Beef
While Mongolian Beef isn't an authentic Chinese dish, it gives an example of the ingredients and seasonings used in Chinese cooking. Feel free to substitute bamboo shoots for the baby corn. Serves 4. More Beef Recipes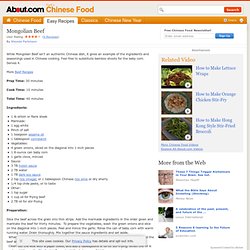 Grilled Skirt Steak Next month, Esquire contributing editor Ted Allen will release a cookbook of recipes for people who don't mind spending a lot of time in the kitchen. They're involved and challenging, and sometimes require a trip to the specialty grocery store. But a lot of them also sound delicious.
Steak, the Ted Allen Way | Shine Food