Création graphisme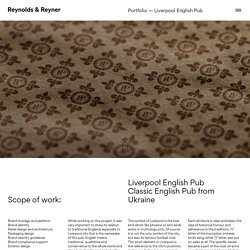 Reynolds and Reyner — Liverpool English Pub
Liverpool English Pub First classic English pub in Ukraine While working on project it was very important to show the connection between our brand and traditional England.
50 reasons not to date a Graphic Designer | Design Lady NYC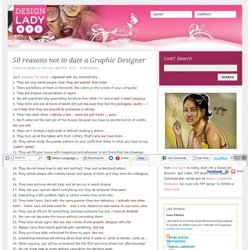 Posted by jerlyn on Monday, April 18, 2011 · 4 Comments via ( a bourbon for silvia ) – reposted with my commentary… 1. They are very weird people. 2.
Bamboo Stylus
Jotpress - Web Publishing by Email
Microlancer is an online marketplace for freelance services focused on design and web-development.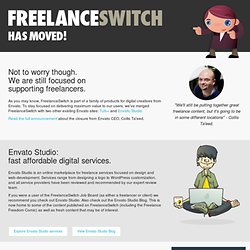 not_available
In the words of Terrell Owens, get your popcorn ready, because this video (below) is awesome. During his Knight Journalism fellowship at Stanford, Geoff McGhee interviewed visualization trendsetters on how they deal and what they do with data in Journalism in the Age of Data: Journalists are coping with the rising information flood by borrowing data visualization techniques from computer scientists, researchers and artists. Some newsrooms are already beginning to retool their staffs and systems to prepare for a future in which data becomes a medium. But how do we communicate with data, how can traditional narratives be fused with sophisticated, interactive information displays? Martin Wattenberg and Fernanda Viègas kick things off with some of the work they did with IBM.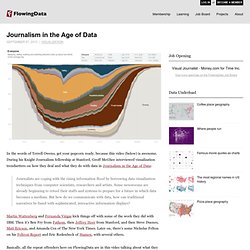 L'Évolution des logos de 25 multinationales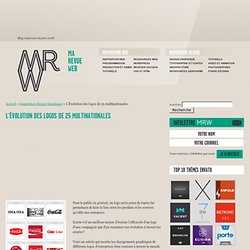 Pour le public en général, un logo est le point de repère lui permettant de faire le lien entre les produits et les services qu'offre une entreprise. Existe-t-il un meilleur moyen d'évaluer l'efficacité d'un logo d'une compagnie que d'en examiner son évolution à travers les années? Voici un article qui montre les changements graphiques de différents logos d'entreprises bien connues à travers le monde. En espérant que ceux-ci pourront vous inspirer par l'efficacité qu'ils ont connu dans le passé et dans le présent à travers leur secteur d'activité respectif! L'article suivant est paru initialement sur le site web de Hongkiat.com et a été écrit par Mme Sonia Mansfield.
Services, nouveautés, ressources et articles du moment, retrouvez un gros medley de ma veille sur le net pouvant vous aider à compléter votre soif de connaissances et d'apprentissages dans le webdesign. GUI Kit PSD The Scoop, un nouveau thème Wordpress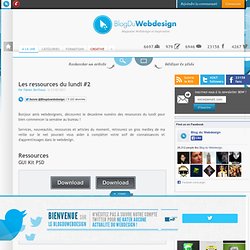 Les ressources du lundi #2 - Blog Du Webdesign Magazine
25 incroyables illustrations de femmes - graphisme
National Geographic's special series on global population, "7 Billion," was going to be fascinating no matter what. But the animated teaser-trailers they've produced for the series are almost the best thing about it. The latest one uses clever infographics and an unpredictable narrative to answer the question: Out of those 7 billion people on earth, who is the most typical?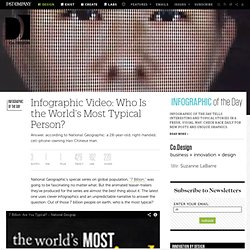 Infographic Video: Who Is the World's Most Typical Person? | Co.Design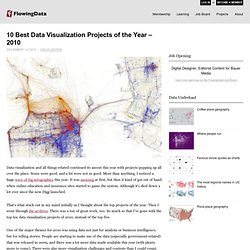 Data visualization and all things related continued its ascent this year with projects popping up all over the place. Some were good, and a lot were not so good. More than anything, I noticed a huge wave of big infographics this year. It was amusing at first, but then it kind of got out of hand when online education and insurance sites started to game the system. Although it's died down a lot ever since the new Digg launched.
Welcome to the DIG! The graphic arts industry website for terminologyThe Printability and Graphic Communications Institute - in collaboration with the translator and terminologist France Brodeur and supported by a financial contribution from the Office Québécois de la Langue Française - is pleased to present this new terminological portal dedicated to the vocabulary of the graphic arts industry.The DIG (Dictionnaire de l'Industrie Graphique) offers you up-to-date content validated by graphic arts industry experts.With a few clicks, you can now access over 2,600 technical terms in the fields of flexography, prepress, digital printing and offset. DIG will also allow you to find synonyms, spelling variants and definitions of every term in French, as well as indicating terms to avoid (anglicisms and faux amis (false cognates). For more information or to send your feedback, please contact us at : information@i-ci.ca Meanwhile, enjoy the DIG!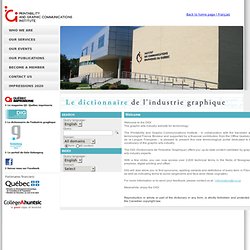 Dictionnaire de l'industrie graphique
Création et publication de livres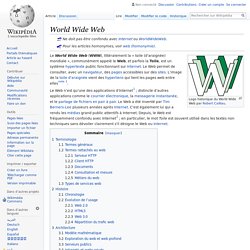 Un article de Wikipédia, l'encyclopédie libre. Le World Wide Web (WWW), littéralement la « toile (d'araignée) mondiale », communément appelé le Web, et parfois la Toile, est un système hypertexte public fonctionnant sur Internet. Le Web permet de consulter, avec un navigateur, des pages accessibles sur des sites.
Tutoriels et matériel Illustrator
Un article de Wikipédia, l'encyclopédie libre. Grands caractères en bois de 21 cm de haut. La typographie est à l'origine l'art d'assembler des caractères mobiles afin de créer des mots et des phrases et de les imprimer. Cette technique a été mise au point vers 1440 par Gutenberg, qui n'a pas inventé l'imprimerie à caractères mobiles mais un ensemble de techniques conjointes : les caractères mobiles en plomb et leur principe de fabrication, la presse typographique, et l'encre grasse nécessaire à cet usage.
Typographie
CINAR
Blog: Secret Shortcuts in Photoshop
25 Inspiring & Creative Office Designs | Dzine Blog
Learn how to earn $125 or more per hour as a freelancer - Click Here Looking for hosting?. We recommend MediaTemple for web hosting. Use Code MTLOVESDESIGN for 20% off Today I would like to share some interesting, inspiring and creative office designs collection.
Logiciels Gestion de couleur
Quand « Canadian Flavour » devient « Saveur de Canadienne » : Attention aux mauvaises traductions | Buzz Créatif
As web designers and developers, we often overlook printed marketing materials. But on occasion, they can come in very handy: at conferences, when we meet face-to-face with clients, or when we happen to run into someone we might want to do business with. Having business cards is a great way to promote yourself in the physical world. Of course, since web design is a creative field, you'll want your business card to serve as a sort of mini portfolio that displays your skills. You should put the same time and energy into designing your business cards that you put into designing a website.
This week our Instagram is being taken over by photographer Alex Strohl. Alex is originally from Madrid, he lived in France and then Quebec, and we became friends after he moved to Vancouver. He's currently exploring Chile, so fingers crossed he can find enough wifi to post for the whole week.
CREATE * INSPIRE * COMMUNITY * ART * DESIGN * MUSIC * FILM * PHOTO * PROJECTS
47 Amazing and Beautiful Female Artworks
Make: Online : How offset printing ink is made
Designer Pages: Products for Architects and Interior Designers
Cute Little Factory | The Blog of Icon Designer and Illustrator
Crisvector, un graphiste à decouvrir absolument!
Live at Photoshop World: Wrap Up | Terry White
gou blog