Techniques & Tips
How to Drink Vodka - Best Way to Drink Vodka. Ask Börje Karlsson, master blender of the vodka that carries his last name, if he'd like a cocktail made with his product, and he'll look at you as if you had just asked to teach his daughter pole dancing.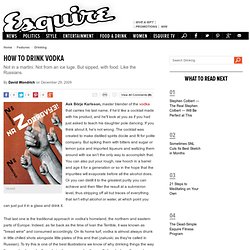 If you think about it, he's not wrong. The cocktail was created to make distilled spirits docile and fit for polite company. But spiking them with bitters and sugar or lemon juice and imported liqueurs and waltzing them around with ice isn't the only way to accomplish that. You can also put your rough, raw hooch in a barrel and age it for a generation or so in the hope that the impurities will evaporate before all the alcohol does. Or you can distill it to the greatest purity you can achieve and then filter the result at a submicron level, thus stripping off all but traces of everything that isn't ethyl alcohol or water, at which point you can just put it in a glass and drink it. How to Seed and Dice a Jalapeño or Chile. This is a great way to remove the seeds from a jalapeño or chile while minimizing contact with the seeds or having the chile squirt at you while trying to scrape the seeds out.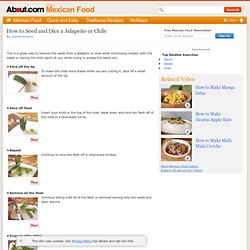 Slice off the tip To make the chile more stable while you are cutting it, slice off a small amount of the tip. Slice off flesh Insert your knife in the top of the chile, blade down and slice the flesh off of the chile in a downward curve. Repeat. How To: Substitute Honey for Sugar in a Recipe | 100 Mile Challenge. May 26, 2009 This is one of the most straightforward switcheroos in local eating, but it still takes a bit of figuring to get it right.
Here's how to do it: How to Make Perfect Hard Boiled Eggs. 1 Put the eggs in a single layer in a saucepan, covered by at least an inch or two of cold water.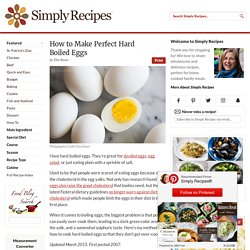 Starting with cold water and gently bringing the eggs to a boil will help keep them from cracking. Adding a tablespoon of vinegar to the water will help keep the egg whites from running out of any eggs that happen to crack while cooking, but some people find that the vinegar affects the taste. I don't have a problem with it and I usually add a little vinegar. Adding a half teaspoon of salt is thought to help both with the preventing of cracking and making the eggs easier to peel. Towards the perfect soft boiled egg » blog.khymos.org. Many cookbooks suggest the following for boiling eggs: 3-6 min for a soft yolk, 6-8 min for a medium soft yolk and 8-10 min for a hard yolk.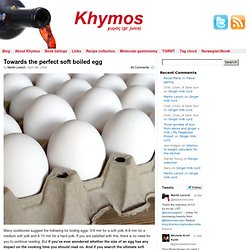 If you are satisfied with this, there is no need for you to continue reading. But if you've ever wondered whether the size of an egg has any impact on the cooking time you should read on. And if you search the ultimate soft boiled egg we share a common goal! Meringue, Meringue Recipe, Egg White Meringue, How To Make Meringue, Perfect Meringue, Making Pie Meringue, Egg White Recipes. Baking Corner | Regional Foods | Cooking Articles | Hints & Tips | Culinary Dictionary | Newspaper Columns Egg White Meringue - How To Make Perfect Meringue Whipping egg whites are much like blowing air into a balloon.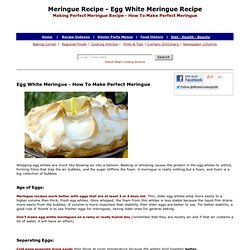 Beating or whisking causes the protein in the egg whites to unfold, forming films that trap the air bubbles, and the sugar stiffens the foam. A meringue is really nothing but a foam, and foam is a big collection of bubbles. Age of Eggs:
---