Sound
Making Steinberg Nuendo work on Linux — Rudd-O.com in English. My passion for music doesn't stop at enjoyment.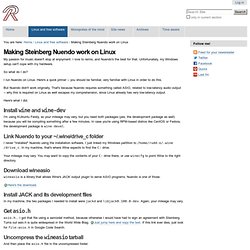 I love to remix, and Nuendo's the best for that. Unfortunately, my Windows setup can't cope with my hardware. So what do I do? Home | Linuxaudio.org. AV Linux - Install...Create... AV Linux is a free custom shop modded and rodded 32bit PAE computer Operating System designed to turn a regular old (or fairly new) PC or Intel Mac into an Audio/Graphics/Video workstation appliance.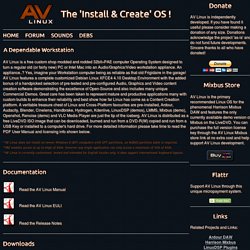 An appliance..? Yes, imagine your Workstation computer being as reliable as that old Frigidaire in the garage! AV Linux features a complete customized Debian Linux XFCE4 4.10 Desktop Environment with the added bonus of a handpicked selection of pre-tested and pre-configured Audio, Graphics and Video content creation software demonstrating the excellence of Open-Source and also includes many unique Commercial Demos. Great care has been taken to represent mature and productive applications many with custom builds to enhance their reliability and best show how far Linux has come as a Content Creation platform. 64 Studio | Have GNU/Linux your way! Puredyne. Ecasound Examples. [Main] [Features][News Archive][Examples][Download][Documentation][Mailing lists][Report Bugs][Issue Tracker][Developer Section][To do][Authors][Code Changelog][Screenshots][Ecasound Users] mirrors: nosignal.fi (eu) / seul.org (us) / sourceforge.net (us) Remember to also check out the Ecasound Tutorials and Articles [alt link] page, the ecasound(1) [alt link] manpage, and the Ecasound User's Guide.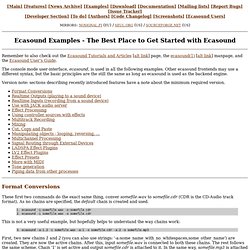 HowToCompileARealTimeKernelForDebian.pdf - Powered by Google Docs. How to compile and install a Real-Time Kernel for Debian. So switching to the open-source drivers supports 2d 3d acceleration on my Radeon, kernel 2.6.33-4 rt Ubuntu 64 10.04 and allows for use of Gem. last edit: The howto at: … %20scratchworked like a charm but I did have to edit/etc/X11/xorg.confDriver "fglrx"needs to beDriver "ati" Don't read the rest of this post.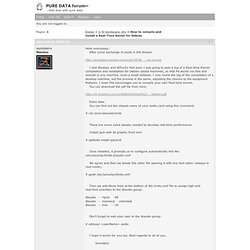 Okay, I managed to lose my gnome for a while there...ugh...I guess that I had disabled gdm because I needed to put a calibration for my touchscreen into the .xinit script, so I always boot to a line and startx. This is not true right, I can run any script from anywhere, right?
---