Mobile
A Mobile Web User Typology
Mobile & Attitudes – a Mobile Web User Typology by MRM Worldwide in cooperation with the Technical University Darmstadt. Background: Mobile online usage is growing rapidly but attention has been focused on devices, networks and operating systems instead of the users. Objective: Find out WHO is spending time in the mobile internet and HOW different user groups are using the mobile online services - in one of the most comprehensive ways ever available. Methodology:
2D Barcodes (Aztec, QR Code, Datamatrix), and the Mobile web
Voir QR: The History, Use & Abuse of QR Codes
ScanLife-Trend-Report_1.11
At a Glance | iTunes Connect Sales Analytics | Worldwide App Store Reviews | Top 400 Hourly Updated App Store Ranks | iAds Tracking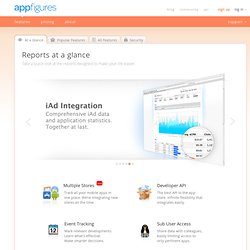 Track all your mobile apps inone place. We're integrating new stores all the time. The best API to the appstore. Infinite flexibility thatintegrates easily.
Downloads See which apps in your portfolio are driving your business forward. Revenue
App Tracking & Analytics Made Easy