Facebook
Infographic Of The Day: Facebook Is The McDonald's Of Social Networking | Co.Design. Information designer Vincenzo Cosenza has released an updated map of social networking traffic around the world.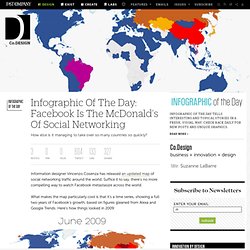 Suffice it to say, there's no more compelling way to watch Facebook metastasize across the world. What makes the map particularly cool is that it's a time series, showing a full two years of Facebook's growth, based on figures gleaned from Alexa and Google Trends. Here's how things looked in 2009: Facebook (facebook) on Scribd. "Un profil Facebook à 70 ans, bonjour la futilité ? Eh bien non" LE MONDE pour Le Monde.fr | • Mis à jour le Ils étaient 6,5 % parmi les plus de 65 ans en France (soit 700 000 personnes) à détenir un compte sur Facebook en décembre 2010, selon l'Observatoire des usages Internet de Médiamétrie – une proportion qui a doublé en un an.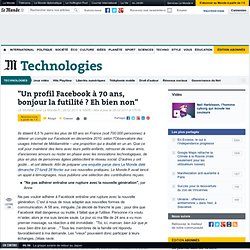 Que ce soit pour maintenir des liens avec leurs petits-enfants, retrouver de vieux amis, d'anciennes amours ou rester en phase avec les innovations technologiques, de plus en plus de personnes âgées plébiscitent le réseau social. D'autres y ont goûté... et ont détesté. Afin de préparer une enquête parue dans Le Monde daté dimanche 27-lundi 28 février sur ces nouvelles pratiques, Le Monde.fr avait lancé un appel à témoignages, nous publions une sélection des contributions reçues. "Ne pas adhérer entraîne une rupture avec la nouvelle génération", par Anne. 5 Creative Facebook Places Marketing Campaigns.
Facebook Places, Facebook's location-based feature that launched in August, allows Facebook users to see where their friends are and to share their locations in the real world.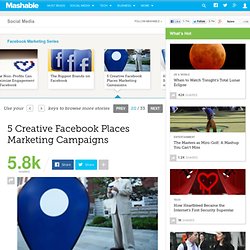 It has also become another powerful Facebook marketing tool for businesses, who can design campaigns around the checkin service to build awareness, grow their fan base and engage and reward customers. Each time a Facebook user checks in to a particular location on Facebook Places, Facebook broadcasts the checkin to that user's friends' news feeds. How can brands use Facebook Credits? The full introduction of Facebook Credits, and their availability (in the US at least) as gift vouchers in offline retailers, opens up a whole new world for brands on Facebook.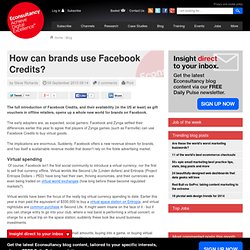 The early adopters are, as expected, social gamers: Facebook and Zynga settled their differences earlier this year to agree that players of Zynga games (such as Farmville) can use Facebook Credits to buy virtual goods. The implications are enormous. The Best Facebook Page Strategies and the Pages That Use Them. The following is an excerpt from the Facebook Marketing Bible, the comprehensive guide to marketing your company, app, or brand on Facebook.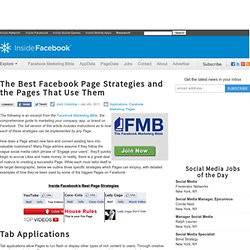 The full version of this article includes instructions as to how each of these strategies can be implemented by any Page. How does a Page attract new fans and convert existing fans into valuable customers? Many Page admins assume if they follow the vague social media catch phrase of "Engage your users", they'll quickly begin to accrue Likes and make money. In reality, there is a great deal of nuance to creating a successful Page. 5 Facebook Giving Campaign Success Stories. Using Facebook as a tool for non-profit fundraising seems like a great idea, but, as many non-profits have found out, it's not as easy as it might look.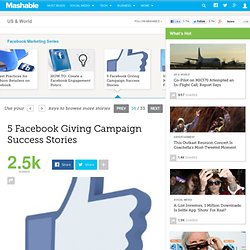 Clicks generally don't translate into large amounts of cash for charities. For example, only a small portion — about 13% — of the funds the American Cancer Society collected in 2009 were raised online, according to The Chronicle of Online Philanthropy. The same was true for the Red Cross (about 3.6%), Children International (less than 1%) and Save the Children (less than 1%). Most non-profits who successfully use social media see it as a tool to engage donors rather than make transactions.
In the Door: Search For Jobs With A Little Help From Your Facebook Friends. Sometimes when you're looking for a job, it's a matter of who you know rather than what you know.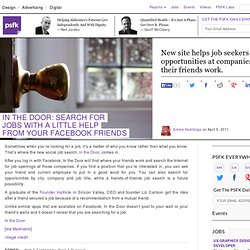 That's where the new social job search, In the Door, comes in. After you log in with Facebook, In the Door will find where your friends work and search the Internet for job openings at those companies.
---