Damienlc
LC
Je jongle entre le CELSA et Lowe Paris.
Yann Tiersen + support TBC. Yann Tiersen + Lanterns On The Lake On Sale Now - Hear Tracks Here 20 Oct 2011 , The Roundhouse, London, UK News Yann Tiersen London stage times18 Oct 2011 11:33The unmissable Yann Tiersen plays London's Roundhouse this Thursday with support from Lanterns On The Lake.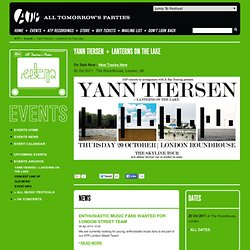 London Agencies. Planning. Like. Hello! Who am I? AROUND YOUR WORD. AYW. London. Bon son de bonsoir. Je conserve.
---
karine.haucolas Apr 1 2010

Thk u ! Faudrait que je m'occupe de faire le ménage un peu dans ce drôle de collier... Nice stuff too !

PED Mar 11 2010

C'est assez simple. En faisant des perles sur les sujets que tu aimes, tu seras automatiquement conencté aux personnes qui ont perlé les mêmes choses que toi. Tu peux alors naviguer dans leurs perles. Tu peux aussi utiliser la mini-perle pour voir les pearltrees qui sont les plus étroitement liés aux tiens. Et si recherches des perles sur un sujet précis, tu peux utiliser le search (en bas à droite).

damienlc Mar 10 2010

Merci bien ! :) Comment on se connecte avec d'autres comptes ?

antoninomicorazon Mar 10 2010

joli tee-shirt ;) (moi obsédé ???)
---