Science News and Information
Get flash to fully experience Pearltrees
Hot tags Spacecraft Climate Change Animals Health Astronomy (Space) Editor's choice Polar ice Arctic to green as Antarctic sea ice grows Monday, 1 April 2013 In the coming decades, global warming will cause grass, shrubs and trees to thrive in Arctic soil stripped of ice and permafrost, while sea ice around Antarctica will grow, according to new research published today.
Home How-To Articles How to use MSCONFIG
Online Activities for Students The following activities are provided to help you investigate light, optics, and color. They were written by educators with input from scientists, researchers, students, and teachers. Students, teachers, and parents are encouraged to work together to begin an exploration of concepts that help us learn about how we see our world. Activity 1: Perspectives: Powers of 10 - Scientists look at things using their eyes, but they also use a wide variety of specialized tools that give them extra capabilities. For instance, some objects are so small that scientists must use powerful microscopes to see them.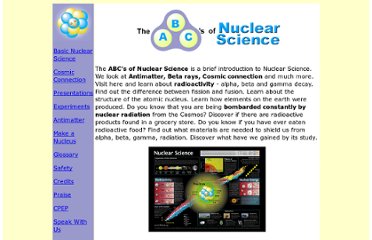 The ABC's of Nuclear Science is a brief introduction to Nuclear Science. We look at Antimatter, Beta rays, Cosmic connection and much more. Visit here and learn about radioactivity - alpha, beta and gamma decay. Find out the difference between fission and fusion.