Recruiters
Accountmanager Buitendienst Rotterdam | Sales Pro Nederland Als Accountmanager Buitendienst Rotterdam werk je zelfstandig en ben je verantwoordelijk voor de verkoop van diverse producten en diensten binnen het rayon Rotterdam en omgeving.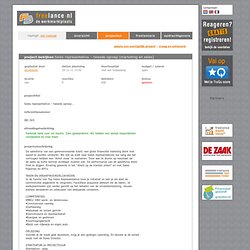 Sales representative %E2%80%93 tweede oproep
De salesforce van een gerenommeerde klant/ een grote financiële instelling dient met spoed te worden versterkt.
Vacatures
Zoek je een nieuwe baan? - Ambitious People
NETLIJN PERSONEEL | Perfectie in Selectie
technische vacatures op mbo-, hbo-, en w.o.-niveau
CV Critique - Get interviewed within 30 days, guaranteed!
PEOPLE SELECT
Force Company specialist in Procurement & Engineering - Force Company
Intro
Welkom op Hays.nl | Hays Nederland
Top of Minds - Amsterdam - Executive Search
Voor werkgevers - AV Werving & Selectie
Wijnkamp Werving & Selectie B.V.
Vacatures
Content Executive - Carrière
AMBITIOUS PEOPLE | Specialisten in Sales & Marketing vacatures
Welcome to IDPP
Yacht Recruitment
Corredor Recruitment - Werving | Selectie | Interim - Barendrecht
Amacom Detachering - Werving & Selectie B.V.
Detachering & Projecten | Brunel Nederland
is a global leader in specialist recruitment
The People Company: specialist Recruitment & HR Consultancy
Sales- en Accountmanagement functies - AV Werving & Selectie
Upsell Recruitment & Detachering voor en van Top Professionals | everyone lives by selling something
Nederland - Mercuri Urval
Yacht: Detacherings- en werving- en selectiebureau voor hoogopgeleiden - Yacht
WE-Focus: Attent op Talent
De beste match!, CoSellers marketing en salesprofessionals
home : OCG
DPA Group
Loopbaan | Unilever
YER Young Executive Recruitment - marktleider in werving en selectie