OWS Hand Gestures
Exquisite Tweets from @DiceyTroop
Occupy movement hand signals, grouped by function. The Occupy movement hand signals are a group of hand signals used by Occupy Wall Street protesters to negotiate a consensus . [ 1 ] [ 2 ] [ 3 ] The signals have been equated with other hand languages used by soldiers, cliques, or even Wall Street traders. [ 4 ] Hand signals are used instead of conventional audible signals, like applause, shouts, or booing, because they do not interrupt the speaker using the human microphone , a system where the front of the crowd repeats the speaker so that the content can be heard at the back of the crowd.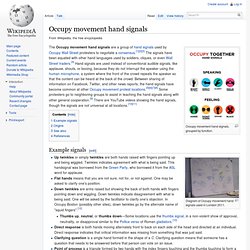 Occupy movement hand signals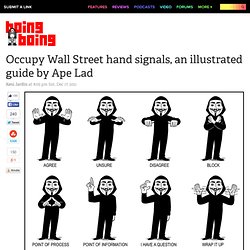 Occupy Wall Street hand signals, an illustrated guide by Ape Lad
As a passionately-democratic CEO of several companies (for better and for worse, but mostly better, I hope), I share your admiration for these efforts at building effective languages and achieving consensus. It's so easy to criticize this type of process that's messy and extraordinarily challenging, and I'm very impressed, a bit awed really, by the achievements of the disparate members of this movement. When I remember how terrifying it was living through the decade of comprehensive silence that choked this country's democratic voice while we watched a series of dreadful lies and crimes pile one upon the other, I'm even more impressed at the incredible progress OWS has made over such an historically brief period of time. Or maybe the dizzying rate of the movement's progress is simply a reaction to that unnatural silence that filled the brief spaces between the aggressively vacuous "0% Percent Down!" and "Mission Accomplished!"
Occupy Wall Street - Hand Signals
Occupy Wall St. Hand Signals Explained. - Story Balloon
Occupy Portland - DownTwinkles
OccupyRichmond 10/6/11 Hand Signals
Occupy Berkeley Movement explains its hand signals
Consensus Decision-Making Hand Signals Explained at #OccupySF
Jazz Hands and Waggling Fingers: How Occupy Wall Street Makes Decisions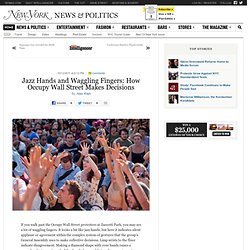 If you walk past the Occupy Wall Street protesters at Zuccotti Park, you may see a lot of waggling fingers.
What's behind those Occupy hand signals - Ideas