笔记
互联网里的分类和标签 « 时光立方
互联网里的分类和标签 标签:网络2.0的象征 内容需要"做标记",如同杨是树,长江第一大桥在武汉一样。互联网时代,面对充斥满屏幕等待挑选的信息,如果能按属性和内容特征筛选信息,无疑是磨刀不误砍柴工。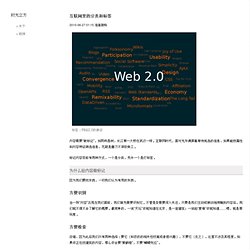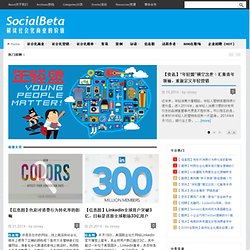 SocialBeta ----社会化媒体|社会化媒体营销|社会化设计|社区型网站运营|社会化媒体相关资源分享|We dream of being a Mashable in China.
【盘点】2013年度新浪微博十大公关热词 社会化媒体 2013年的公关圈依然熙熙攘攘热闹非凡,在铺天盖地的公关传播案例里,谁给我们留下了最深刻的印象呢?
PS:阅读本文前,建议阅读《 万亿美元的新模式O2O:GroupOn只是沧海一粟》。 O2O 这一概念在去年 8 月份被 Alex Rampell 提出来,后来在 11月份被我引进国内后,就成了一个炙手可热的名词。今年开始,就不断的出现了各种标榜自己是 O2O 模式的产品,不过其中有太多是在和概念扯关系,很多人都没有真正理解 Alex Rampell 所提出的 O2O。今天再次碰到了一些误读,于是我决定写这篇文章来澄清一下到底什么是 O2O。 引用我在《 万亿美元的新模式O2O:GroupOn只是沧海一粟》中所提到的: O2O 模式的核心很简单,就是把线上的消费者带到现实的商店中去——在线支付线下商品、服务,再到线下去享受服务 。
停止误读!O2O 模式重点详解:必须包含"线下商户的发现或推荐"、"在线支付"、"营销效果的监测"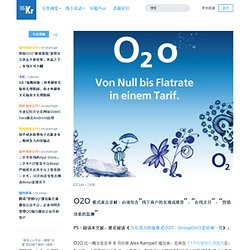 There are a bunch of iPhone apps I own though I have no clue what they do. These apps include but aren't limited to; FLUD, Apptitude, Cartoonatic, Can't Wait!, Punch, Pah, Prize Claw, Traveler, Concur, Jajah, Fast Customer, Pimple Popper and many more whose names I can't even remember. Occupying my valuable homescreen real estate are also a bunch of apps whose purpose I remember only because they were built by people I know or am friends with, but that I sadly never use. And in some cases I really wish I did, because it would make my friends happy and the world a better place. The few apps that I actually open daily (Twitter, Instagram, Facebook, Foursquare, Spotify, Reminders, Safari, Messenger, and Yammer sadly enough) are securely fastened to my homescreen.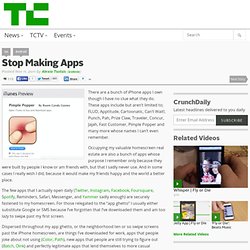 Stop Making Apps