Cooking
Get flash to fully experience Pearltrees
Recept
Dit is een klein overzichtje van enkele eenvoudige maar onmisbare dressings voor allerlei soorten salades. Gebruik voor de vinaigrettes (dressings op basis van olie en azijn/citroensap) een leeg, schoon jampotje om de ingrediënten in te mengen. Schud het potje goed om te zorgen dat de olie en azijn zich mengen.
Bols.com respects your privacy and would like to know what cookies we are using and why.
Tips en trucs voor het bakken, de voorbereiding en verwerking.
Basil Pesto Pesto Vinaigrette Basil Anchovy Dipping Sauce Creamy Basil Sauce Basil-Infused Oil Balsamic Basil Vinaigrette B asil is at the top of the list of "best buys" at summertime farmers markets. The herb is so fragile, beginning to turn black in the refrigerator in several days, that supermarkets have a hard time keeping it in stock for a reasonable price.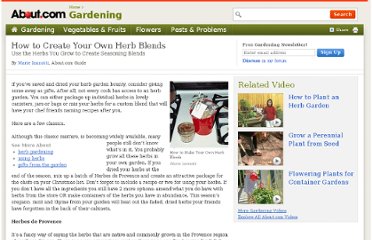 If you've saved and dried your herb garden bounty, consider giving some away as gifts. After all, not every cook has access to an herb garden. You can either package up individual herbs in lovely canisters, jars or bags or mix your herbs for a custom blend that will have your chef friends naming recipes after you.
Greek Oregano has a strong flavor, but it doesn't hold up well to prolonged cooking, especially when used fresh.
Artikel
Artikel
Per 100 gram (gepeld):