Mobile
Advertising
Airwide. Gizmo SMS - Send FREE messages to any Mobile Phone. VoIP From Mobile. Long distance on a mobile handset can be extremely expensive. bOK Systems is a newly launched mobile VoIP company that lets you make those other expensive calls cheaply, and without having to download software.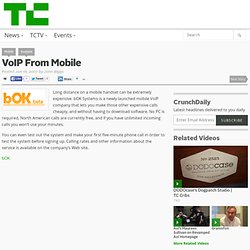 No PC is required, North American calls are currently free, and if you have unlimited incoming calls you won't use your minutes. You can even test out the system and make your first five-minute phone call in order to test the system before signing up. Calling rates and other information about the service is available on the company's Web site. SMS Tutorial. Air2Web - Mobile Marketing and Premium Content Delivery Worldwid. JavaFX Mobile - Overview. Podcasts: Mobile. Click-to-Video Mobile Advertising. Advertisers looking to deliver the mobile video ad campaigns can now use the Click-to-Video landing page service from Nexage, a mobile video solution provider.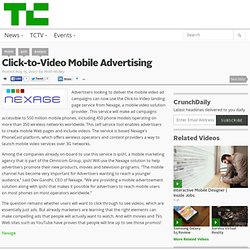 This service will make ad campaigns accessible to 550 million mobile phones, including 450 phone models operating on more than 350 wireless networks worldwide. This self service tool enables advertisers to create mobile Web pages and include videos. The service is based Nexage's PhoneCast platform, which offers wireless operators and content providers a way to launch mobile video services over 3G networks.
GoMo News. Rating: who needs dotmobi?
Having just created www.gomonews.mobi it was an eye opener talking to advertising guru and CEO of Quattro Wireless Andy Miller. I have followed Quattro since its launch and while I was impressed with the company and the background of the of the founders (already sold a company for USD 300 million) – I had some reservations. For one – the mobile advertising space is expanding in all directions at an alarming rate. Mobi. 3 questions for Third Screen Media. When Microsoft said it will buy mobile ad startup ScreenTonic last week, the first thing a lot of us wondered was who's next?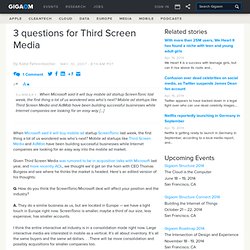 Mobile ad startups like Third Screen Media and AdMob have been building successful businesses while Internet companies are looking for an easy way into the mobile ad market. Given Third Screen Media was rumored to be in acquisition talks with Microsoft last year, and more recently AOL, we thought we'd get on the horn with CEO Thomas Burgess and see where he thinks the market is headed. Here's an edited version of his thoughts: Q. Mass High Tech: The Journal of New England Technology: Everypoin. Mar 21, 2014, 8:48am EDT Massachusetts consulting shop: Apple, Hewlett-Packard lead satisfaction ratings among computer-buyers Scores for companies factored in functional and emotional reactions to purchases.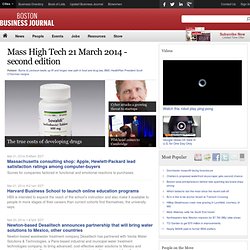 Mar 21, 2014, 8:21am EDT Harvard Business School to launch online education programs HBX is intended to expand the reach of the school's instruction and also make it available to people in more stages of their careers than current cohorts find themselves, the university says. Mar 20, 2014, 1:47pm EDT Newton-based Desalitech announces partnership that will bring water solutions to Mexico, other countries ​Newton-based wastewater treatment company Desalitech has partnered with Veolia Water Solutions & Technologies, a Paris-based industrial and municipal water treatment technologies company, to bring advanced, cost-effective water solutions to Mexico and countries worldwide.
---