Androïd
Ever since we caught our first glimpses of the alleged Android-powered Nokia Normandy, leaks have been popping up left and right. While some are quick to label a Nokia-built Android device as the Holy Grail of smartphones, others aren't too impressed with the interface shots seen to date. Now, thanks to Twitter leakers @evleaks and @vizileaks, we have a very clear shot of the alleged device's outer casing, as well as new leaked screenshots that appear to indicate two general ways in which the Normandy's UI can be navigated.. . .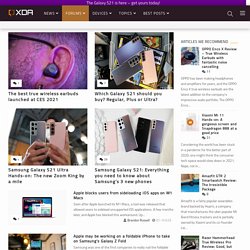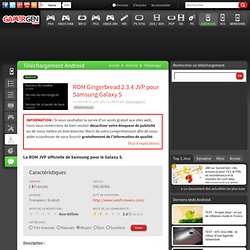 INFORMATION : Si vous souhaitez la survie d'un accès gratuit aux sites web, nous vous remercions de bien vouloir désactiver votre bloqueur de publicité ou de nous mettre en liste blanche. Merci de votre compréhension afin de nous aider à continuer de vous fournir gratuitement de l'information de qualité.Plus d'explications La ROM JVP officielle de Samsung pour le Galaxy S.
ROM Gingerbread 2.3.4 JVP pour Samsung Galaxy S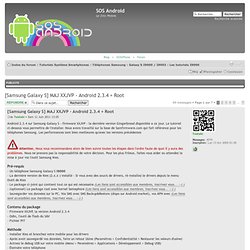 [Samsung Galaxy S] MAJ XXJVP - Android 2.3.4 - Gingerbread : Galaxy S I9000 / I9003 | SOS Android
Android 2.3.4 sur Samsung Galaxy S - firmware XXJVP - la dernière version Gingerbread disponible a ce jour. Le tutoriel ci-dessous vous permettra de l'installer. Nous avons travaillé sur la base de Samfirmware.com qui fait référence pour les téléphones Samsung. Les performances sont bien meilleures qu'avec les versions précédentes Attention, Nous vous recommandons alors de bien suivre toutes les étapes dans l'ordre faute de quoi il y aura des problèmes.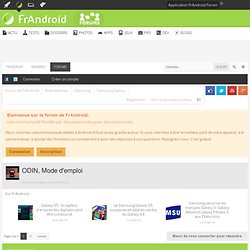 ODIN, Mode d'emploi
Comme à chaque mise à jour, c'est toujours pareil, voilà comment mettre à jour avec ODIN télécharcher odin seul iciDrivers usb compatible si besoin icitélécharger votre mise à jour taz rar.. peut importe ce que vous avez comme version avant, vu que ça va tout réinstaller.. lancer Odin si la mise à jour est 1 fichier tar (dedans pas de fichier compressé) cochez one packagedans one package mettre le chemin du fichier. (K5 par exemple)sinonsi la mise à jour est un rar ou zip et dedans plusieur fichier tar décompresser et mettre le chemin de chaque tar boot , phone, pda..