Stumbleupon
The Fifty Greatest Cult Movies of All Time | Nerve.com - StumbleUpon. It's midnight somewhere.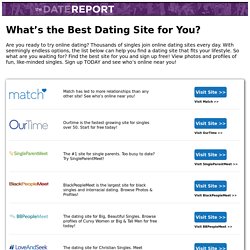 By Phil Nugent and Andrew Osborne "Cult movie" is a hard thing to pin down. For the purposes of this list — celebrating the tenth anniversary of Donnie Darko — we've put a premium on the intensity and selectiveness of a movie's appeal. We've also limited each director to one film. UNEXPLAINED AMERICA - UNSOLVED MYSTERIES! - StumbleUpon. Needs (2012-03-05) How to Unlock a Computer Without a Password Reset Disk | eHow.com - StumbleUpon. Murphy Laws Site - The origin and laws of Murphy in one place. - StumbleUpon. NickCiske.com | Binary - its digitalicious! How binary works: The binary number system (aka base 2) represents values using two symbols, typically 0 and 1.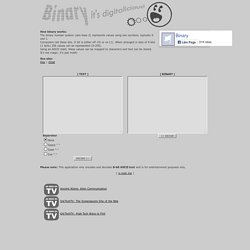 Computers call these bits. A bit is either off (0) or on (1). When arranged in sets of 8 bits (1 byte) 256 values can be represented (0-255). Using an ASCII chart, these values can be mapped to characters and text can be stored. It's not magic, it's just math! SCHOPENHAUERS 38 STRATAGEMS, OR 38 WAYS TO WIN AN ARGUMENT - StumbleUpon. Arthur Schopenhauer (1788-1860), was a brilliant German philosopher.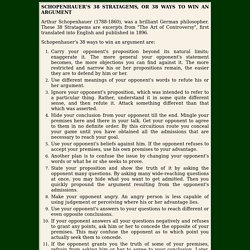 These 38 Stratagems are excerpts from "The Art of Controversy", first translated into English and published in 1896. Carry your opponent's proposition beyond its natural limits; exaggerate it. How To Make Rage Faces on Facebook Chat | Geekosystem - StumbleUpon. Simply type the above code that corresponds to the appropriate rage face into Facebook chat, and the image of the rage face you chose will appear, emoticon-like in its existence.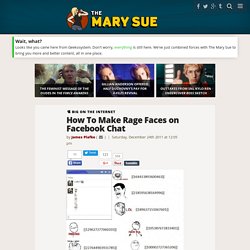 Facebook didn't suddenly become hip to the Internet and add rage face emoticons (something from which Google Chat would greatly benefit), but the ability to add rage faces to Facebook chat is more of a hack than anything else, and something to which you can add. Reddit user daychilde explains that these aren't actually some form of ragemoticon, but that the double bracket and code corresponds to a user profile or page, and when put into Facebook chat, will show the thumbnail of the profile or page that the code links to. So, all one has to do to make any picture a Facebook chat emoticon, is to simply create a user profile or page that uses the desired picture as the profile picture, then enter the double brackets and corresponding code into Facebook chat.
Here's a tidy list of some more rage face codes: 10 Life-Enhancing Things You Can Do in Ten Minutes or Less - StumbleUpon. By It usually takes us much longer to change our moods than we'd like it to take.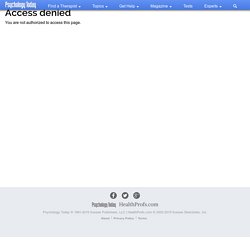 Here are ten things you can do in ten minutes or less that will have a positive emotional effect on you and those you love. . Qwerty Beats | Online Drum Machine | Keyboard Drum Loops | Remix | Samples |... - StumbleUpon. BeyondWeird Home Page. Koalas to the Max dot Com - StumbleUpon. Seaquence - StumbleUpon. 5 Ways To Hack Your Brain Into Awesomeness | Cracked.com - StumbleUpon. Much of the brain is still mysterious to modern science, possibly because modern science itself is using brains to analyze it.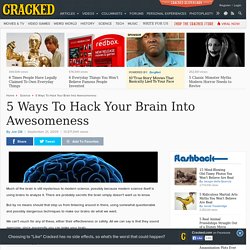 There are probably secrets the brain simply doesn't want us to know. But by no means should that stop us from tinkering around in there, using somewhat questionable and possibly dangerous techniques to make our brains do what we want. We can't vouch for any of these, either their effectiveness or safety.
---