On the road & Jack Kerouac
Bande-annonce Sur la route - Sur la route Bande-annonce VF
kerouac
Sur la route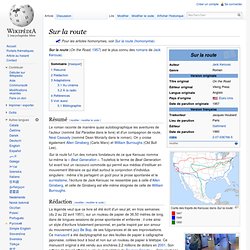 Un article de Wikipédia, l'encyclopédie libre. Sur la route ( On the Road , 1957 ) est le plus connu des romans de Jack Kerouac . Résumé [ modifier ] Carte des trajets de Kerouac dans Sur la route : 1947 1949 1950 Le roman raconte de manière quasi autobiographique les aventures de l'auteur (nommé Sal Paradise dans le livre) et d'un compagnon de route, Neal Cassady (nommé Dean Moriarty dans le roman). On y croise également Allen Ginsberg (Carlo Marx) et William Burroughs (Old Bull Lee).
On the Road is a novel by American writer Jack Kerouac . On the Road is based on the travels of Kerouac and his friends across America. It is considered a defining work of the postwar Beat Generation with its protagonists living life against a backdrop of jazz , poetry , and drug use.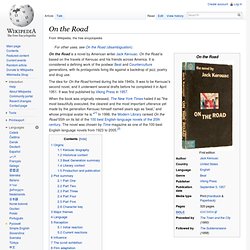 Un article de Wikipédia, l'encyclopédie libre. Jack Kerouac (prononcé : [ ˈkɛruːæk, ˈkɛrəwæk ], né le 12 mars 1922 à Lowell , dans le Massachusetts , mort le 21 octobre 1969 à St. Petersburg , en Floride ) est un écrivain et poète américain . Considéré aujourd'hui comme l'un des auteurs américains les plus importants du XX e siècle, il est même pour la communauté beatnik le « King of the Beats » [ 1 ] . Son style rythmé et immédiat, auquel il donne le nom de « prose spontanée », a inspiré de nombreux artistes et écrivains et en premier lieu les chanteurs américains Tom Waits [ 2 ] et Bob Dylan [ 3 ] . Les œuvres les plus connues de Kerouac, Sur la route (considéré comme le manifeste de la beat generation ), Les Clochards célestes , Big Sur ou Le Vagabond solitaire , narrent de manière romancée ses voyages à travers les États-Unis .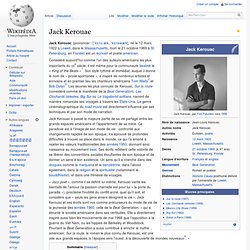 museedeslettres
"Here's to the misfits, rebels, trouble-makers. The ones who see things differently.
Jack Kerouac « L.K. Thayer's Poetry Juice Bar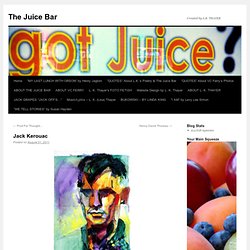 jack-kerouac
10293579-large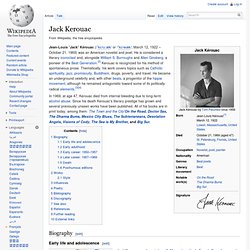 Jean-Louis " Jack " Kérouac ( pron.: / ˈ k ɛr uː æ k / or / ˈ k ɛr ɵ æ k / ; March 12, 1922 – October 21, 1969) was an American novelist and poet. He is considered a literary iconoclast and, alongside William S. Burroughs and Allen Ginsberg , a pioneer of the Beat Generation . [ 2 ] Kerouac is recognized for his spontaneous method of writing, covering topics such as Catholic spirituality , jazz , promiscuity , Buddhism , drugs, poverty, and travel. Kerouac became an underground celebrity and, with other beats, a progenitor of the hippie movement , although he remained antagonistic toward some of its politically radical elements. [ 3 ] In 1969, at age 47, Kerouac died from internal bleeding due to long-standing abuse of alcohol . Since his death Kerouac's literary prestige has grown and several previously unseen works have been published.