Movies
The Bureau of Communication - Fill-in-the-blank Correspondence. Top Ten Films 1930-2011. 2013 1.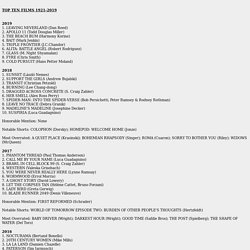 UNDER THE SKIN (Jonathan Glazer) 2. BLUE JASMINE (Woody Allen) 3. INSIDE LLEWYN DAVIS (Joel & Ethan Coen) 4. BEFORE MIDNIGHT (Richard Linklater) 5. 10 Certified Fresh Psychological Thrillers. Feed Your Dark Side list. Sorrow-kun's List of 50 Great Anime of the Decade 2000-2009 » Behind The Nihon Review. Our staff's review of the decade continues, and today I'll be taking on the massive task of trying to list the best fifty anime that came out this decade, as I saw them.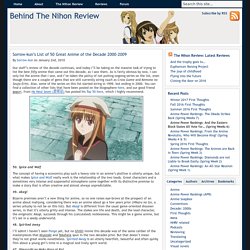 As is fairly obvious by now, I can only list the anime that I saw, and I've taken the policy of not putting ongoing series on the list, even though there are a couple of gems that are still currently airing (such as Cross Game and Kemono no Souja Erin). Also, some of the series on this list started airing in 1999, but ending in 2000.
---