Creation
Want The Perfect Lipstick? Try BITE's Lip Lab in NYC. Stella's haul from BITE Did you know there is a place in New York City that will whip up any variety of lipstick you want in under 20 minutes?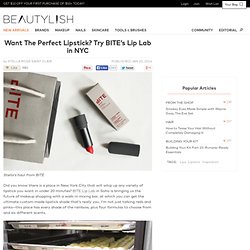 BITE Lip Lab in Soho is bringing us the future of makeup shopping with a walk-in mixing bar, at which you can get the ultimate custom-made lipstick shade that's really you. I'm not just talking reds and pinks—this place has every shade of the rainbow, plus four formulas to choose from and six different scents. Fresh moulded pigments categorized by shade.
Sifang Museum. Beijing artist Ai Weiwei was the only non-architect invited to join the Sifang project, though he has worked on building projects, including Beijing's National Stadium for the 2008 Olympics.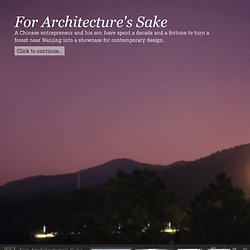 "I don't have to speak the same language as they do," he said in an interview. Mr. Ai, who has curated other art projects involving architects in China, said he wanted to design a space that's simple and flexible. "I didn't know who was going to use it," he said. The interior's textured concrete walls were created by gluing individual 2-inch (5-centimeter) strips of wood and pasting them onto larger boards, which formed molds for the poured concrete. Intricately Detailed Hand Drawn Map Of New York City. Homemade Baby / Makeup Remover / Cleaning Wipes! If you've read my blog lately…you'll know I'm kind of on a "homemade" kick.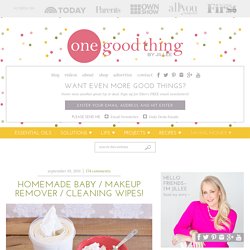 Not necessarily homemade cookies, cakes and buns….but more along the lines of cleaning supplies, beauty products, etc. I haven't gone off the deep end and started making my own dishes or shoes or anything like that (of course, never say never!) But more and more I find myself looking for alternatives to the high-priced, over-packaged, chemical-filled stuff. Sure it's economical, sure it's the "green" thing to do…but quite frankly…I like the feeling of accomplishment, and sticking it to the big corporations that market this stuff, more. :-) One thing I still buy and use are those disposable make-up remover cleansing cloths. - All for the Everyday - DIY Lotion Bars. Thanks for stopping by!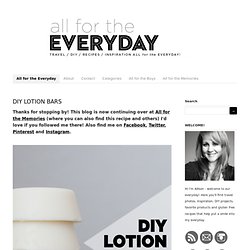 This blog is now continuing over at All for the Memories (where you can also find this recipe and others) I'd love if you followed me there! Also find me on Facebook, Twitter, Pinterest and Instagram. I love natural products + I have very dry skin. I have yet to find a great facial lotion that can keep me from being flakey. Seriously it's so bad. DIY Cage Bra. DIY Cage Bralette | elle & ish. Maybe it's a little too late in the year to be thinking of summer dresses with exposed backs, or extreme 80′s tank tops with giant arm holes… but I'm very excited for warmer weather!
Because I made this little beauty: …and now you can too! Normally I don't wear bralettes, but lately I've been bitten by the Nasty Gal/Brandy Melville style bug and I'm stepping out of my comfort zone with this. Nasty Gal and Dolls Kill sell this very popular caged bralette/swimsuit top for around $75 or more, but I didn't want to spend that much for just a bra. This is my first time sewing a bikini/lingerie type piece and I'm glad I did…. it turned out amazingly well for my first try. 6 Life-Changing Beds For Your Tiny Space. DIY Beauty Gifts – YouBeauty. Need some inspiration for homemade gifts this holiday season?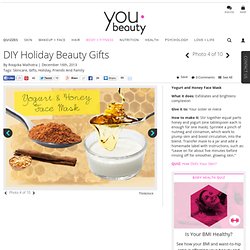 Think outside the cookie box and whip up some luxurious beauty treats. Body scrubs, face masks, bath salts—these easy, surprisingly inexpensive, DIY beauty treatments only seem pricey. Gorgeous Mac Screen Saver - Weather, Time, Date. DIY Wrap Bracelet - Honestly WTF - StumbleUpon. You should all know by now that we are all about stacking bracelets on our wrists.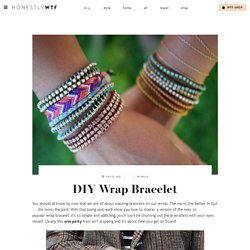 The more, the better. In fact . . . the most, the best! With that being said, we'll show you how to master a version of the ever so popular wrap bracelet. It's so simple and addicting, you'll soon be churning out these wristlets with your eyes closed. Clearly this arm party train isn't stopping and it's about time you get on board! A Look Inside the Home of Artist Laurie Frick. Domestic Imperfection — Decorating for the rest of us. Wooden Welcome Mat. A better title for this post would be "Pinterest Challenge: Part II", since Pinterest Challenge Part I was a big 'ol flop.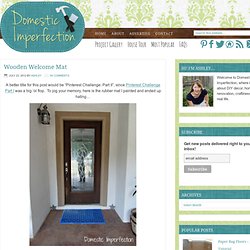 To jog your memory, here is the rubber mat I painted and ended up hating… and here is the mat (from marthastewart.com) that I should have made… Now if there is one thing I am good at, it's perseverance. DIY | Chain Link Bracelet (Part 1) I have been really inspired by chain bracelets lately.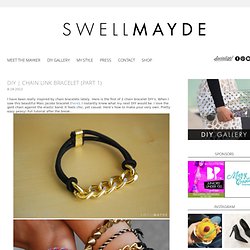 Here is the first of 2 chain bracelet DIY's. When I saw this beautiful Marc Jacobs bracelet (here), I instantly knew what my next DIY would be. I love the gold chain against the elastic band. DIY | Chain Bracelet (Part 2) I am loving thin, delicate jewelry.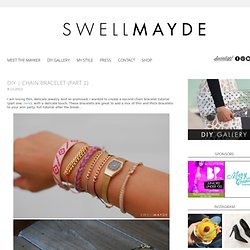 And as promised, I wanted to create a second chain bracelet tutorial (part one: here), with a delicate touch. These bracelets are great to add a mix of thin and thick bracelets to your arm party. Full tutorial after the break... Materials: - thin chain - bead cord/thin rope (here) - lobster claw - 2 small jump rings - 2 metal cord tips (here) - scissors - pliers Steps: 1. Roandco cordials . well-branded. I'm absolutely one of those people who picks out wine by the label. Oh, the label's boring? I guess the wine must be, too... Because clearly I have discriminating taste. What can I say? I just really love good packaging design. 51 Fantastic Uses for Baking Soda (Page 2) I don't mean to sound seditious here, but I have a rebellious plan to combat the ills that many corporations are perpetrating in the name of fighting grime and germs.
My main gripe is about the environmental pollutants from cleaning and personal care products that we wash down our drains and into our water systems, resulting in situations like the chemical triclosan (a pesticide added to many products as an antibacterial agent) being found in dolphins. So the simple plan is to encourage everyone to use baking soda in any of these 51 applications. Besides showing kindness to aquatic life, we can also protect ourselves from the array of toxins in household cleaning products.
Conventional cleansers can expose us to multiple chemicals linked to asthma, cancer and other documented health problems. Homemade Laundry Soap & The No-Poo Method. Oh hey. In case you haven't noticed, I've been going a little hippie lately. What's new? Last year I took up couponing, which isn't necessarily hippie. But it is frugal. Easy Tiny Envelopes. Guest tutorial by Ruth Bleakley I discovered this envelope making method completely by accident when pulling soggy rain-soaked mail out of my leaky mailbox - I had a total *eureka* moment when the envelope I gingerly opened up completely unfolded at the seams revealing an envelope "template" perfectly.
I've seen many envelope tutorials online, some offer downloadable templates, some show fancy paper folding techniques and some suggest specific measurements to create your own D.I.Y. envelopes. I'm going to show you how to replicate any interesting envelope that you might already have, no measuring involved! Click below for the how-to: Incredibox. D.I.Y Inspiration from ScrapHacker.com. Michigan's statewide sing-along to "It's Always a Good Time" The fabrication of 'Monochromatic Sectors from Primary, Secondary and Tertiary Colour Ring with Dark Centre' (2012)
Christmas Lights in 8 Bedrooms. Circle Knit Shirt Tutorial. DIY Wood-Grain Laptop Wrap. Long Pom Pom Cowl. Wall-Mounted Succulent Garden. Splash dyed for spring. Souled Objects. The Zooming Presentation Editor. Sticky Hands Toy | Coca-Cola. Tiltshiftmaker.com - Transform your photos into tilt-shift style miniatures. Picnik - Photo editing the easy way, online in your browser.
20 PSD Tuts That Will Turn You Into A Photoshop Guru.
---