Very cool
§. Find your tracks. We Are Hunted - The Online Music Chart. The last few years have been an incredible experience made possible by the various staff, contractors and partners we've worked with.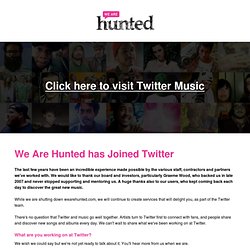 We would like to thank our board and investors, particularly Graeme Wood, who backed us in late 2007 and never stopped supporting and mentoring us. A huge thanks also to our users, who kept coming back each day to discover the great new music. While we are shutting down wearehunted.com, we will continue to create services that will delight you, as part of the Twitter team. There's no question that Twitter and music go well together. Artists turn to Twitter first to connect with fans, and people share and discover new songs and albums every day. Copiecachée.com.
SimilarSites.com - Easily Find Similar WebSites. Studio beta.
---