Computer/ipad/ iphone
How-To Geek - Computer Help. Tom's Hardware.
Specific techie how-tos
PC Magazine Reviews. CNET product reviews. Cell plan research. PRODIMEX eShop GV. Toshiba Portege R835-P88 Review CNET. Reviewing the Toshiba Portege R835-P88 is like revisiting an old friend.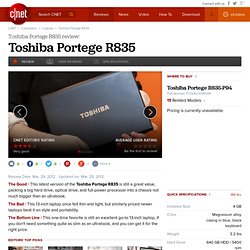 Previous versions of this laptop have won our coveted Editors' Choice Award, by offering excellent all-around performance in a slim, lightweight 13-inch body, for a lot less than you'd expect. But since we reviewed the last version of the R835, a seismic shift in 13-inch laptops has occurred, thanks to the growing popularity of the ultrabook.
---