Ubuntu
Networking. Wubi - Ubuntu Installer for Windows. Feature: Seamlessly Run Linux Apps on Your Windows Desktop. Be careful folks - your Dorks are hanging out.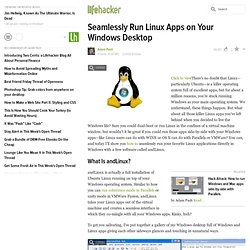 Allow me to be more specific (and, while I'm at it, correct at one mistaken assumption) - I have not been, at any time in this discussion, referring to (or even thinking about) games. Wide load: Adding widescreen monitor support to Ubuntu. This one had me pulling my hair out for quite a while.
(in fact at one point I had to reinstall becuase I messed up my xserver config file so bad that I couldn`t see anything from the log in screen onwards!) After trying to manually edit the config files and failing a number if times I found out about this neat little wizard that walks you through and makes it slightly more difficult to mess things up.
---