Ubuntu
Feature: Seamlessly Run Linux Apps on Your Windows Desktop
Click to view There's no doubt that Linux—particularly Ubuntu—is a killer operating system full of excellent apps, but for about a million reasons, you're stuck running Windows as your main operating system. We understand, these things happen. But what about all those killer Linux apps you've left behind when you decided to live the Windows life?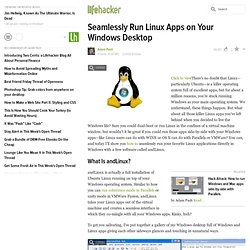 Wide load: Adding widescreen monitor support to Ubuntu
This one had me pulling my hair out for quite a while. (in fact at one point I had to reinstall becuase I messed up my xserver config file so bad that I couldn`t see anything from the log in screen onwards!) After trying to manually edit the config files and failing a number if times I found out about this neat little wizard that walks you through and makes it slightly more difficult to mess things up.