Multiple
- StumbleUpon. 47 Incredibly Amazing Photographs From The 2010 National Geographic... 50 Images from National Geographic`s 2010 Photo Contest | Top Design... - StumbleUpon. This is one of the most anticipated annual photo contests.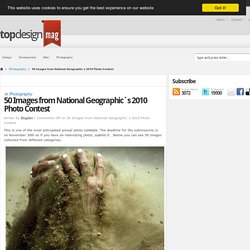 The deadline for the submissions is on November 30th so if you have an interesting photo, submit it. Below you can see 50 images collected from different categories. An Indian wrestler smears mud on his head before starting wrestling in Kolkata, India, March 30, 2010. Mix Collection of 77 Stunning Photographs to Refresh Your Mind | Inspiration | instantShift - StumbleUpon. When it comes to inspiration then there is no limitation on resources.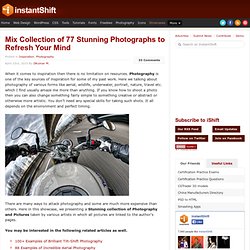 Photography is one of the key sources of inspiration for some of my past work. Here we talking about photography of various forms like aerial, wildlife, underwater, portrait, nature, travel etc. which I find usually amaze me more than anything. 20 Captivating Photos Shot At Exactly The Right&8230;. There are some things in life that make me feel dated (notice I didn't use the word "old" LOL).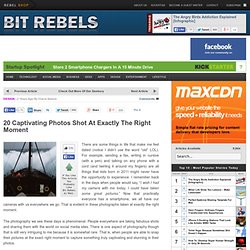 For example, sending a fax, writing in cursive (with a pen) and talking on any phone with a cord (and twirling it around my fingers) are all things that kids born in 2011 might never have the opportunity to experience. I remember back in the days when people would say, "I wish I had my camera with me today, I could have taken some great pictures." Now that practically everyone has a smartphone, we all have our cameras with us everywhere we go. That is evident in these photographs taken at exactly the right moment. These 50 Photos Will Blow you Away - StumbleUpon.
Great news today: we will start a series of showcases that are meant to make the jaws drop!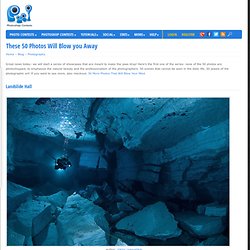 Here's the first one of the series: none of the 50 photos are photoshopped, to emphasize the natural beauty and the professionalism of the photographers. 50 scenes that cannot be seen in the daily life, 50 jewels of the photographic art! If you want to see more, also checkout: 50 More Photos That Will Blow Your Mind Landslide Hall.
National Geographic Photo Contest 2011 - Alan Taylor - In Focus. National Geographic is currently holding its annual photo contest, with the deadline for submissions coming up on November 30.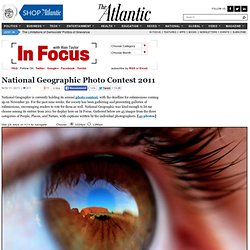 For the past nine weeks, the society has been gathering and presenting galleries of submissions, encouraging readers to vote for them as well. National Geographic was kind enough to let me choose among its entries from 2011 for display here on In Focus. Gathered below are 45 images from the three categories of People, Places, and Nature, with captions written by the individual photographers. [45 photos] 35 Explosive Examples of High Speed Photography - Flash Web Design and Design Photography | DesignOra. Posted by J.
Luzatto on 02/09/2010 in Photography | ∞ We have shown you examples of many types of photography, from kinetic to infrared to long exposure, and now we would like to share something a little different: high speed photography. This technique can require expensive equipment, skill and specific calculations in order to achieve the perfect image. Today we are featuring a few amazing photographers who will capture your attention with their works of art. Colors Of Life: 100+ Sparkling Examples of Color Photography. "By luck, I stumbled upon your site, and of course I wanted to try it out.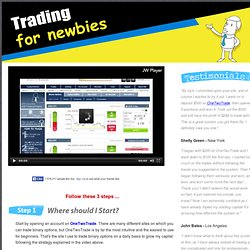 I went on to deposit $500 on OneTwoTrade, then opened 5 positions and won 4. Took out the $500 and still have the profit of $288 to trade with. This is a great system you got there Sir, I definitely owe you one. " Best Pictures Of The Decade: The Noughties TotallyCoolPix - StumbleUpon. TotallyCoolPix is all about the images and this is a retrospect all about the years 2000-2010 aka The Noughties.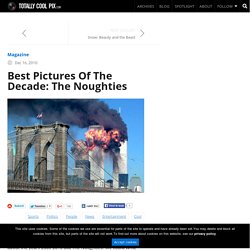 We could write about September 11th 2001 or the tsunami or countless earthquakes or the Middle East conflict or Barack Obama or Michael Schumacher or Saddam Hussein or Facebook or the human race. But we'll let the pictures speak for themselves. Note: The images are in no particular order, some contain graphic scenes and they are the personal choice of the editors. If you miss something, we're sorry. Awesome pictures from around the world | Vivi The Mage. Someone sent me these in a chain email, it was horribly formatted.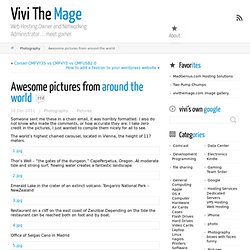 I also do not know who made the comments, or how accurate they are. I take zero credit in the pictures, I just wanted to compile them nicely for all to see. The world's highest chained carousel, located in Vienna, the height of 117 meters. Thor's Well – "the gates of the dungeon."
---