GD Hardware
Untitled. The industry's highest performing stylus for tablets and handsets The industry's highest performing stylus for tablets and handsets.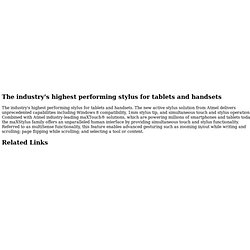 The new active stylus solution from Atmel delivers unprecedented capabilities including Windows 8 compatibility, 1mm stylus tip, and simultaneous touch and stylus operation. Combined with Atmel industry-leading maXTouch® solutions, which are powering millions of smartphones and tablets today, the maXStylus family offers an unparalleled human interface by providing simultaneous touch and stylus functionality. Referred to as multiSense functionality, this feature enables advanced gesturing such as zooming in/out while writing and scrolling; page flipping while scrolling; and selecting a tool or content.
Openmoko Beagle/Panda Hybrid - Beagleboard or Pandaboard with Openmoko Display. News: We have been choosen by the PandaBoard Early Adopter Program and will receive a PandaBoard (OMAP4 / ARM Cortex A9) board soon.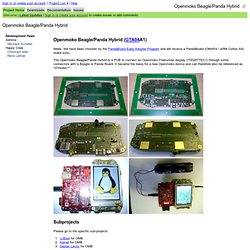 The Openmoko Beagle/Panda Hybrid is a PCB to connect an Openmoko Freerunner display (TD028TTEC1) through some connectors with a Beagle or Panda Board. It became the basis for a new Openmoko device and can therefore also be referenced as "GTA04A1". Kompass Modul - HMC6352. Kameramodul bei Pollin: Kennt das jemand? GTA04. News: The codename GTA04 was picked up in 2010 by Golden Delicious Computers to develop a new motherboard for our open smartphone that follows the original idea and goals.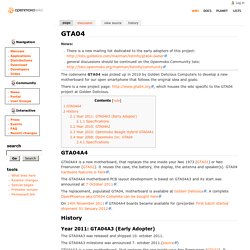 There is a new project page: , which houses the wiki specific to the GTA04 project at Golden Delicious. GTA04A4 is a new motherboard, that replaces the one inside your Neo 1973 ( GTA01 ) or Neo Freerunner ( GTA02 ). It reuses the case, the battery, the display, the antenna and speaker(s). InvenSense Inc.: Gyroscope (Six Axis w/ Accelerometer): Integrated SixAxisGyroscope: MPU-6050: Embedded 3-axis gyroscope, 3-axis accelerometer with integrated Digital Motion Processor, full scale range from ±250 to ±2000: supports I2C serial interface onl.
Gyroscope (Six Axis w/ Accelerometer), Specification Search, MPU-6000, MPU-6000EVB, MPU-6050, MPU-6050EVB, 497-10765-1-ND (Hersteller - LSM303DLHTR) Pandaboard. GPS receiver module families. LEA-6R module with Dead Reckoning. ARM architecture. ARM is a family of instruction set architectures for computer processors based on a reduced instruction set computing (RISC) architecture developed by British company ARM Holdings.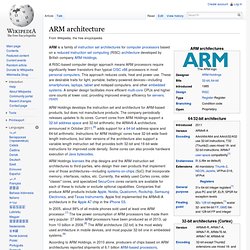 ARM Holdings develops the instruction set and architecture for ARM-based products, but does not manufacture products. The company periodically releases updates to its cores. Current cores from ARM Holdings support a 32-bit address space and 32-bit arithmetic; the ARMv8-A architecture, announced in October 2011,[6] adds support for a 64-bit address space and 64-bit arithmetic. Instructions for ARM Holdings' cores have 32-bit-wide fixed-length instructions, but later versions of the architecture also support a variable-length instruction set that provides both 32-bit and 16-bit-wide instructions for improved code density.
---