Videogames
New Renders
There's Something in the Sea
» Donkey Kong Country ... » Super C » Legend of Zelda, Th ... » Super Mario World » Zombies Ate My Neig ... » Final Fantasy 3 » U.N. Squadron » Ghoul Patrol » Earth Bound » Punch-Out!! 2011-06-21 19:11:04 : its at a good game of histori od dragon ball z... 2011-06-21 02:18:07 : me gustaria jugar donkey kong country !!!! pero nose en cual pagina jugar ke me recomiendan... » Donkey Kong Country » Dragon-Ball Z - Hyper Dimension » Super Mario All-Stars » Donkey Kong Country 3 - Dixie Kong's Double Trouble
S | Play Nintendo
Two Guys Play Portal 2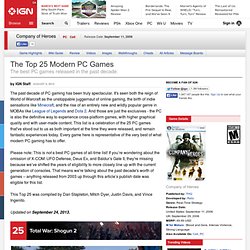 This is not a best PC games of all-time list, so if you're wondering about the omission of X-Com and Deus Ex and Baldur's Gate II, please consider the date range. We've shifted the years of eligibility for IGN's Top 25 Modern PC games to more closely line up with the current generation of consoles. Anything released from 2006 up through this article's publish date was eligible for this list. We also limited the list so only one entry per franchise could appear.
The Top 25 Modern PC Games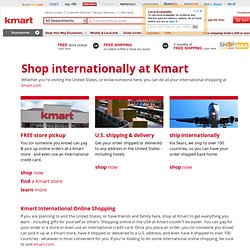 Kmart products are now available for international shipping on sears.com. When you shop internationally we'llshow you prices in the currency of your choice, calculate all duties and taxes and give you the option to prepay your online total to avoid future duty or tax adjustments. Go to sears.com/international - Select your location and we will show prices in your country's currency Browse for products - You can shop for clothing, home decor, kitchen items, tools and thousands of other products internationally Avoid surprise charges after delivery - If you choose to prepay your duties and taxes online we'll guarantee the prices you see in your cart
Top 10 Multiplayer PSN Games | Botchweed Gaming
When I was in New York City attending the PlayStation 4 reveal, I started to think a lot, ironically, about PlayStation 3. Sitting with well-known Sony executive Shuhei Yoshida and picking his brain about PS4, it became clear that the new console was a separate ecosystem. PS3 games – both digital and retail – won't work on PS4 , and it seemed like Sony may be slowly closing the book on PlayStation 3.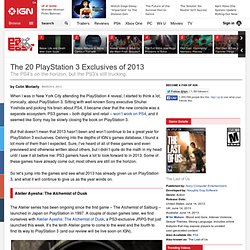 The 20 PlayStation 3 Exclusives of 2013