Home built boat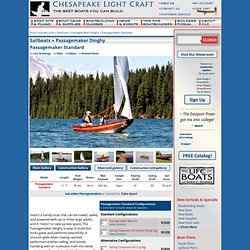 Here's a handy boat that can be rowed, sailed, and powered with up to three large adults, and it "nests" to take up less space. The Passagemaker Dinghy is easy to build but looks great and performs beautifully. A smooth glide when rowing, spirited performance when sailing, and steady handling with an outboard mark this latest entry in our fleet of graceful build-it-yourself boat kits. This is the perfect dinghy for folks with larger boats. Are you tired of moving heavy, traditional dinghies that weigh 200 pounds, or struggling with a limp, awkward inflatable that can't be rowed or sailed? CLC designer John C.
The Passagemaker Dinghy: Only 90 Pounds!
Folding Kayak Builders Manual - Homebuilt Folding Kayaks by Thomas Yost
Chesapeake Light Craft | Boat Plans, Boat Kit, Kayak Kit, Canoe Kit, Sailboat Kit, Rowboat Kit, Paddleboard Kit, Boat Plan, Boat Kits, Kayak Kits, Canoe Kits, Sailboat Kits, Rowboat Kits, Paddleboard Kits, Boatbuilding Supplies, Boat Gear and Accessories,
If you want to build a boat, we have what you need. Chesapeake Light Craft is your source for boat kits, kayak kits, boat plans, and boatbuilding materials. Our original, award-winning boat designs include kayaks, canoes, rowing boats, dinghies, and sailboats.