Cyber Counter Culture
Darknet - The Darkside | Ethical Hacking, Penetration Testing & Computer Security. Level 1. Hack This Site! +Ma's Reversing - deserve it! Seven dangerous new computer hacks (and one silly one) that will change the future. *shrug* it seems simple enough to avoid all of this.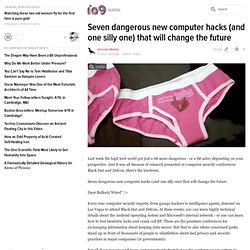 It's called be insignificant. You can't complain that Big Brother detained you if you're out there dabbling in things that Big Brother might be upset about. Just go live a happy life. Yes, we are supposed to rage against the machine, hold the man accountable, protect our freedoms, etc etc, but by aggressively doing these things, we worry the Powers that Be and they do dumb things in response to that. But that's been the story for thousands of years, I suppose.
---