Cyber Counter Culture
Level 1
+Ma's Reversing - deserve it!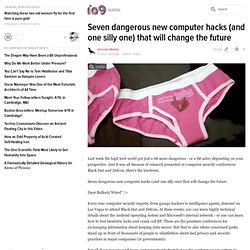 @ KeithZG : ...How's the Washington Post and the New York Times set with you? They disclosed stuff that got people killed, then showed no remorse for that fact. How many things do they have to steal and disclose to be bad? How many people have to get killed before someone calles them on the irresponsibility of their actions? Seriously, is there a number value here? I get that hackers are generally idolized as the underdogs fighting the totalitarian regime.
Seven dangerous new computer hacks (and one silly one) that will change the future
May 16 2010 If you value your rapidly disappearing privacy while surfing the Internet you need to know about these tools. Whether you want to protect yourself from snoopers, want to spy on those out to get you, or want to be able to track trends that you know will lead to something big, then these tools will help you get the job done.