Cyber Counter Culture
Level 1
+Ma's Reversing - deserve it!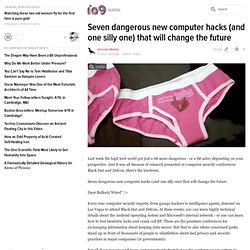 SExpand Last week the high tech world got just a bit more dangerous - or a bit safer, depending on your perspective. And it was all because of research presented at computer security conferences Black Hat and Defcon. Here's the lowdown. Dave Bullock/Wired" /> Every year computer security experts, from garage hackers to intelligence agents, descend on Las Vegas to attend Black Hat and Defcon.
Seven dangerous new computer hacks (and one silly one) that will change the future
May 16 2010 If you value your rapidly disappearing privacy while surfing the Internet you need to know about these tools. Whether you want to protect yourself from snoopers, want to spy on those out to get you, or want to be able to track trends that you know will lead to something big, then these tools will help you get the job done.