Browser
IEBlog. Future Releases | Be the first to know what's new with upcoming Firefox releases. Earlier this week, I asked our engineering leads and release managers to take the Windows Metro version of Firefox off the trains.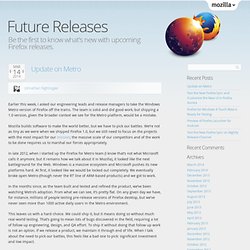 The team is solid and did good work, but shipping a 1.0 version, given the broader context we see for the Metro platform, would be a mistake. Mozilla builds software to make the world better, but we have to pick our battles. We're not as tiny as we were when we shipped Firefox 1.0, but we still need to focus on the projects with the most impact for our mission; the massive scale of our competitors and of the work to be done requires us to marshal our forces appropriately. In late 2012, when I started up the Firefox for Metro team (I know that's not what Microsoft calls it anymore, but it remains how we talk about it in Mozilla), it looked like the next battleground for the Web. Safari Dev Center.
Safari 6 Learn about the new features in the world's most innovative web browser.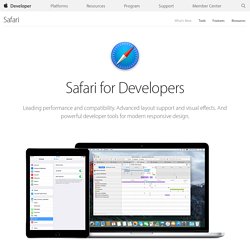 Development Resources. Chrome Releases.
---