Outils Gestions des droits et suppressions informations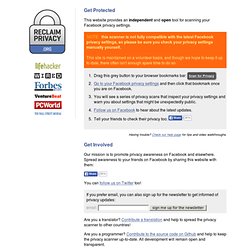 This website provides an independent and open tool for scanning your Facebook privacy settings. NOTEthis scanner is not fully compatible with the latest Facebook privacy settings, so please be sure you check your privacy settings manually yourself. This site is maintained on a volunteer basis, and though we hope to keep it up to date, there often isn't enough spare time to do so. Drag this grey button to your browser bookmarks bar: Scan for Privacy Go to your Facebook privacy settings and then click that bookmark once you are on Facebook. You will see a series of privacy scans that inspect your privacy settings and warn you about settings that might be unexpectedly public.
I Shared What?!? Simulator
Soumis par INTERNET SANS C... le ven, 14/05/2010 - 09:56 Selon un article du post.ft, plus de la moi­tié (52%) des uti­li­sa­teurs de Facebook et Twittery publient des infor­ma­tions pouvant mettre en dan­ger leur vie privée. Cette affirmation est issue du consumer report, l'équivalent américain de 60 millions de consommateurs, qui vient de sor­tir son rap­port annuel sur l'internet.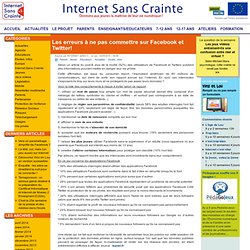 Les erreurs à ne pas commettre sur Facebook et Twitter!
I am absolutely sure that my Facebook login details are correct, but the machine answers always with "Wrong password, dude!"? The facebook screen shows a message like "You are signing in from an unfamiliar location. For your security, please verify your account." Since our service is located in The Netherlands, the facebook server is clever enough to detect that our machine tries to login from a different country than yours. Thus, it asks a security question which consists of your birthday used in your profile.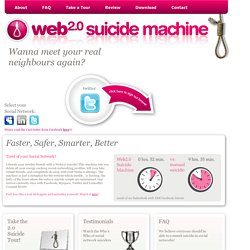 Supprimer définitivement compte facebook