Outils divers
Fotobabble - commenter une photo. Blippy / See what everyone is buying. Upload Music - Free Music Upload for Musicians. Fan2Sport rencontre des Supporters, échange avec les Joueurs sur le 1er Réseau du Sport et des Fans de Sports. Social Page Evaluator. MyWeboo. Thank you all for your support, but unfortunately we have decided to move on.
We will maintain our service till June 5th, 2011. We promise we'll create something cool again very soon! MyWEBoo had its first blowout! Special thanks to Geoff Fowler from the Wall Street Journal for hitting the PR home run for us. First with his article in the WSJ, then ABC 7 with David Louie, and of course Yahoo News! Pictarine - Zest of life. Comment choisir un raccourcisseur d'url ? Les raccourcisseurs d'url connaissent une période de gloire depuis l'avènement des réseaux sociaux et notamment de Twitter.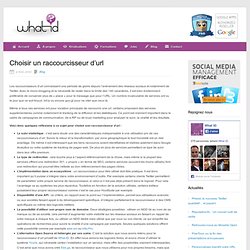 Avec le micro-blogging et la nécessité de rester dans la limite des 140 caractères, il est bien évidemment préférable de conserver plus de « place » pour le message que pour l'URL. Un nombre incalculable de services ont vu le jour que ce soit tinyurl, bit.ly ou encore goo.gl pour ne citer que ceux là. Même si tous ces services ont pour vocation principale de raccourcir une url, certains proposent des services supplémentaires comme notamment le tracking de la diffusion et les statistiques.
---