Calendriers
5 logiciels gratuits pour créer facilement des calendriers prêts à être imprimés. Le temps passe si vite que nous voilà déjà pratiquement à la fin de l'année 2011, bientôt nous serons en 2012 !.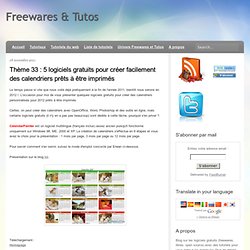 L'occasion pour moi de vous présenter quelques logiciels gratuits pour créer des calendriers personnalisés pour 2012 prêts à être imprimés. Certes, on peut créer des calendriers avec OpenOffice, Word, Photoshop et des outils en ligne, mais certains logiciels gratuits (il n'y en a pas pas beaucoup) sont dédiés à cette tâche, pourquoi s'en priver ?. CalendarPainter est un logiciel multilingue (français inclus) assez ancien puisqu'il fonctionne uniquement sur Windows 98, ME, 2000 et XP. Owl Lover 2012 Calendar. My name is Shivani and I am the author of My Owl Barn.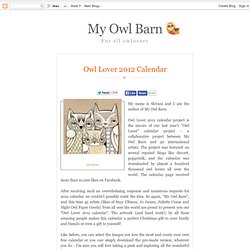 Owl Lover 2012 calendar project is the encore of our last year's "Owl Lover" calendar project - a collaborative project between My Owl Barn and 30 international artists. The project was featured on several reputed blogs like decor8, poppytalk, and the calendar was downloaded by almost a hundred thousand owl lovers all over the world. The calendar page received more than 10,000 likes on Facebook. After receiving such an overwhelming response and numerous requests for 2012 calendar we couldn't possibly resist the idea. So again, "My Owl Barn", and this time 45 artists (likes of Suzy Ultman, Jo James, Juliette Crane and Night Owl Paper Goods) from all over the world are proud to present you our "Owl Lover 2012 calendar".
Calendrier monstres à imprimer. Monthters are our friendly monthly monsters.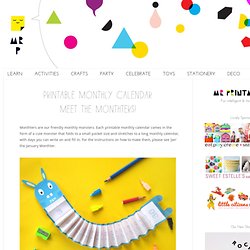 Each printable monthly calendar comes in the form of a cute monster that folds to a small pocket size and stretches to a long monthly calendar, with days you can write on and fill in. For the instructions on how to make them, please see 'Jan' the January Monthter. January Monthter 'Jan' is a little blue monster for January. Calendrier Vert Cerise. Assorted Free Calendars To print. Some fantastic freebies here!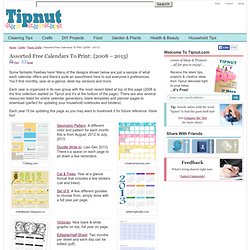 Many of the designs shown below are just a sample of what each calendar offers and there's quite an assortment here to suit everyone's preferences. You'll find monthly, year-at-a-glance, desk top versions and more. Each year is organized in its own group with the most recent listed at top of this page (2008 is the first collection started on Tipnut and it's at the bottom of the page). Calendriers de l'avent 2011. Même si nous aimons beaucoup le chocolat (merci Chantal), voici une petite sélection de calendriers de l'avent qui (je pense) vous fera patienter tranquillou jusqu'au 25 : Dans la catégorie Enfants Chaque jour un nouveau jeu pour les enfants à découvrir par ici, des vidéos, des animaux ou des jolis dessins par làDes QR Codes (parce que les QR c'est rigolo) : The Inki AdventNon, non, les fans de South Park n'ont pas été oubliés !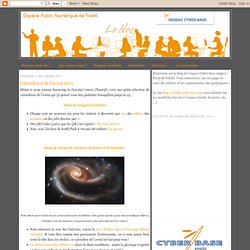 Un calendrier 2012 mignon-mignon, Pour bien commencer cette nouvelle année et égayer votre quotidien, je vous propose un calendrier 2012 mignon-mignon !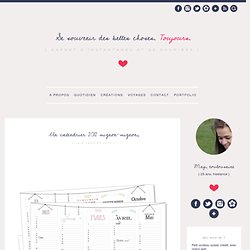 Au départ, j'aurais voulu le faire sur une page recto-verso afin d'éviter de l'éparpiller et pouvoir appréhender cette nouvelle année en un (deux) coup d'oeil. Finalement, il en faudra trois. Je trouvais que cela faisait un peu trop serré-étriqué-étouffé. A quoi cela sert à un calendrier si l'on ne peut rien ajouter dessus ? J'aime les calendriers où je peux gribouiller des petites choses, ajouter mes dates essentielles et mes rendez-vous, me l'approprier.
---