Web 3.0
Semantic Web Crawling: A Sitemap Extention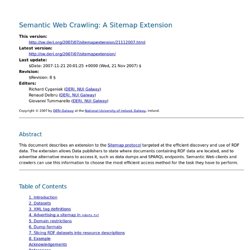 Abstract This document describes an extension to the Sitemap protocol targeted at the efficient discovery and use of RDF data. The extension allows Data publishers to state where documents containing RDF data are located, and to advertise alternative means to access it, such as data dumps and SPARQL endpoints.
Quand la donnée prend le dessus. C'est ainsi que pourrait être, très vulgairement, résumé le Web sémantique. Un vaste projet qui a éclaté aux yeux de tous suite à l'intervention de Tim Berners-Lee, patron du W3C - et également père du Web -, le consortium en charge de définir les standards du Web.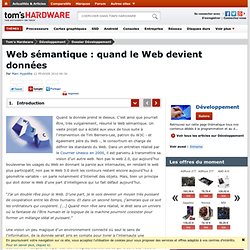 SemanticTweet - twitter meets the semantic web
Présentation Web3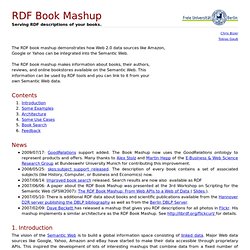 The RDF book mashup demonstrates how Web 2.0 data sources like Amazon, Google or Yahoo can be integrated into the Semantic Web. The RDF book mashup makes information about books, their authors, reviews, and online bookstores available on the Semantic Web. This information can be used by RDF tools and you can link to it from your own Semantic Web data. Contents News 2009/07/17: GoodRelations support added.
RDF Book Mashup
The Sematic Web Client Library represents the complete Semantic Web as a single RDF graph. The library enables applications to query this global graph using SPARQL- and find(SPO) queries. To answer queries, the library dynamically retrieves information from the Semantic Web by dereferencing HTTP URIs, by following rdfs:seeAlso links, and by querying the Sindice search engine. The library is written in Java and is based on the Jena framework. Contents
Semantic Web Client Library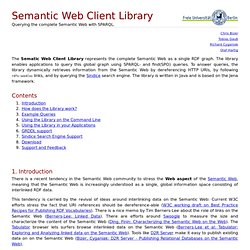 Seven Pillars of the Open Semantic Enterprise | Digital Asset Ma
Home | Semantic Web Dog Food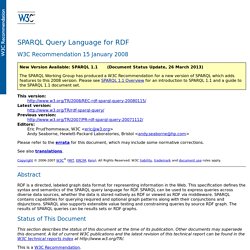 W3C Recommendation 15 January 2008
From Semantic Web Standards Overview RDF is a standard model for data interchange on the Web.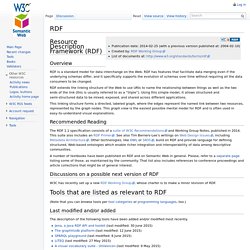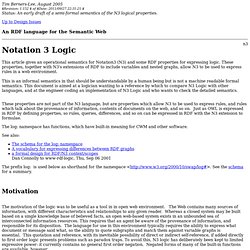 Notation3 (N3): A readable RDF syntax
Up to Design Issues
Resource Description Framework (RDF) Schema Specification 1.0
W3C Candidate Recommendation 27 March 2000 This Version: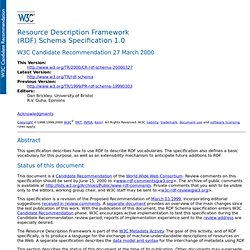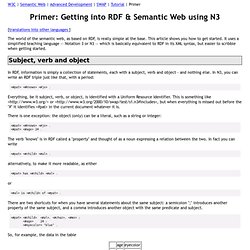 [translations into other languages ]
Primer - Getting into the semantic web and RDF using N3
RDF Automation Ushering in Semantic Web
Researchers with the Rensselaer Polytechnic Institute (RPI) have thrown themselves head over heels into the semantic web.
SWSE
This page gives an overview of software tools related to the Semantic Web or to semantic technologies in general.
Tools
data viewer directory
DBpedia is a crowd-sourced community effort to extract structured information from Wikipedia and make this information available on the Web. DBpedia allows you to ask sophisticated queries against Wikipedia, and to link the different data sets on the Web to Wikipedia data.
OpenCyc.org
This site uses cookies to store information on your computer. Some cookies on this site are essential, and the site won't work as expected without them. These cookies are set when you submit a form, login or interact with the site by doing something that goes beyond clicking on simple links. We also use some non-essential cookies to anonymously track visitors or enhance your experience of the site.
Tim Berners-Lee
The Tabulator (1)
Tabulator : Exploring & Analyzing linked data