Afrique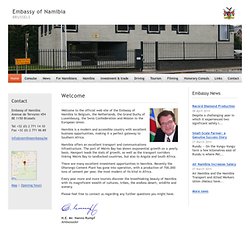 Republic of Namibia
Welcome Welcome to the official web site of the Embassy of Namibia to Belgium, the Netherlands, the Grand Duchy of Luxembourg, the Swiss Confederation and Mission to the European Union. Namibia is a modern and accessible country with excellent business opportunities, making it a perfect gateway to Southern Africa.
Benintourisme
Welcome to Magical Kenya: Deutsch | Français | Italiano | 日本人 | русский Advertise on MagicalKenya.com Popular Destinations Jambo!
Magical Kenya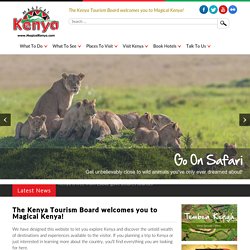 When space becomes the ultimate luxury... Namibië, toch wel heel speciaal. Met minder dan 2 miljoen mensen bewonen ze een immense oppervlakte van meer dan 820.000 vierkante kilometer: een bevolkingsdichtheid van 2 bewoners per vierkante kilometer! En de meeste mensen wonen dan nog in de steden en dorpjes… Een mix van culturen en stammen: de Owambo als grootste groep, maar ook de nomaden-Himba's, de oorspronkelijke bewoners de San (Bushmen), met daarnaast de Duitse, Britse en Zuidafrikaanse invloeden… Honderden kilometers woestijn, stof, canyons, maar ook Etosha in het Noorden, met zijn rijkelijk wildleven, zijn big five.. Weinig mensen, lange wegen zonder een levende ziel te zien, uitgestorven en verzande spookdorpjes, eeuwenoude Welwitchia's, onmetelijke ruimtes, waar vind je dit nog? Sossusvlei, een plek op aarde die zijn gelijke niet kent...
Namibia