Arstechnica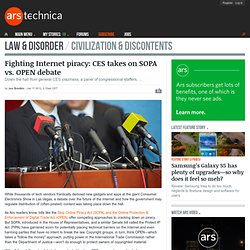 While thousands of tech vendors frantically demoed new gadgets and apps at the giant Consumer Electronics Show in Las Vegas, a debate over the future of the Internet and how the government may regulate distribution of (often pirated) content was taking place down the hall.
Fighting Internet piracy: CES takes on SOPA vs. OPEN debate
While copyright owners test the legal limits of website takedown processes and push legislation greatly expanding powers to limit file sharing on the open Internet, a company that helps corporations protect intellectual property argues there is a better way: create more user-friendly services for acquiring legitimate content.
Forget SOPA: Copyright owners must build a better BitTorrent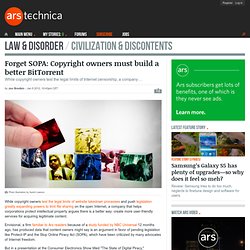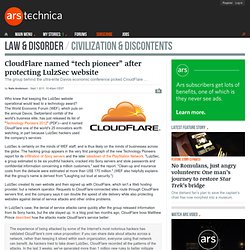 CloudFlare named "tech pioneer" after protecting LulzSec website
Who knew that keeping the LulzSec website operational would lead to a technology award?
Indie filmakers tackle indie games in Indie Game: The Movie
It's sometimes easy to forget that games are made by people. Game developers, for the most part, aren't particularly visible, and aside from a few big names, most players don't associate specific designers with specific games.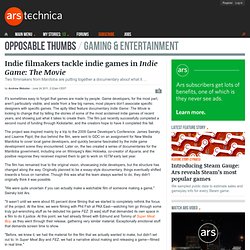 Acting on a French request for assistance, German police today confiscated German Pirate Party servers—apparently hoping to search the prominent collaboration tool widely used within Anonymous to select targets for attack.
German police seize Pirate Party servers, looking at Anon's toolkit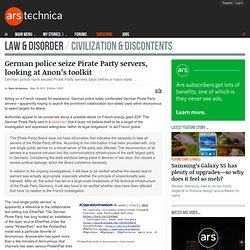 Capsized: a beautiful 2D side-scroller for the FPS crowd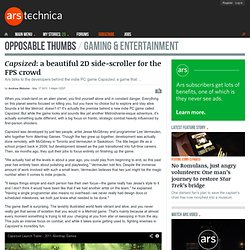 When you crash-land on an alien planet, you find yourself alone and in constant danger. Everything on this planet seems focused on killing you, but you have no choice but to explore and stay alive.
New bill upgrades unauthorized Internet streaming to a felony
Two months ago, US Intellectual Property Enforcement Coordinator Victoria Espinel produced her wishlist of changes to US law.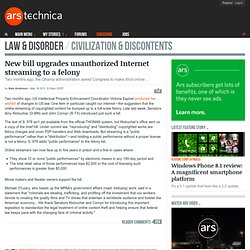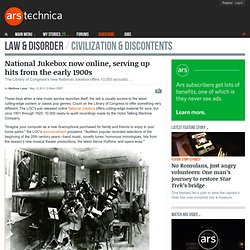 These days when a new music service launches itself, the sell is usually access to the latest cutting-edge content or classic pop genres. Count on the Library of Congress to offer something very different. The LOC's just released online National Jukebox offers cutting-edge material for sure, but circa 1901 through 1925: 10,000 ready-to-audit recordings made by the Victor Talking Machine Company.
National Jukebox now online, serving up hits from the early 1900s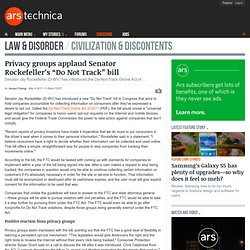 Privacy groups applaud Senator Rockefeller's "Do Not Track" bill
Senator Jay Rockefeller (D-WV) has introduced a new "Do Not Track" bill to Congress that aims to hold companies accountable for collecting information on consumers after they've expressed a desire to opt out.
Sen. Al Franken (D-MN) wants answers.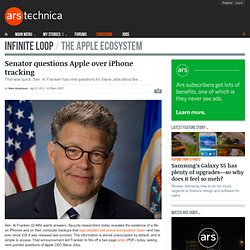 Senator questions Apple over iPhone tracking
Europe's major new telecoms law comes into effect on May 25, and it avoids any explicit net neutrality rules.
Europe pledges to name and shame bad non-neutral ISPs
Pirate Bay becomes "Research Bay" to aid P2P researchers
The Cybernorms group at Sweden's Lund University has partnered with The Pirate Bay to "help researchers to better understand habits and norms within the file-sharing community"—and the site has temporarily rechristened itself "The Research Bay" in response. Cybernorms started in 2009 at Lund as a research project from a PhD student in the Sociology of Law department.
Oracle gives up on OpenOffice after community forks the project
In a statement issued on Friday, Oracle announced that it intends to discontinue commercial development of the OpenOffice.org (OOo) office suite.
European advertisers have begun hopping on board with a new set of guidelines (PDF) that will allow users to block cookie tracking.
European ad industry pushes new tracking, transparency rules
P2P lawyer: more settlements since former-lobbyist judge's ruling
Last month, RIAA-lobbyist-turned-federal-judge Beryl Howell ruled that three mass P2P file-sharing lawsuits before her in Washington, DC could proceed.
Report: Piracy a "global pricing problem" with only one solution
Alleged WikiLeaker could face death penalty
Net neutrality rules: coming December 21
Priority access deals could result in "slow suicide" for ISPs
Did the Republican House landslide kill net neutrality?
Judge realizes: on the Internet, no one can tell you're a kid
Fox throws anti-net neutrality pie at Cablevision in carriage wars
Former music label boss: beat piracy by selling albums for £1
P2P investigations now illegal in Switzerland
The end of used books, music, games? Court guts "First Sale"
"Piracy" sounds too sexy, say rightsholders
Pirate Party membership plummets post Pirate Bay verdict
Back room net neutrality deal? Reform groups up in arms
US goes after movie pirates in Estonia, counterfeiters in Tanzan
UK regulator: net neutrality rules bad for consumers