Arstechnica
Fighting Internet piracy: CES takes on SOPA vs. OPEN debate. While thousands of tech vendors frantically demoed new gadgets and apps at the giant Consumer Electronics Show in Las Vegas, a debate over the future of the Internet and how the government may regulate distribution of (often pirated) content was taking place down the hall.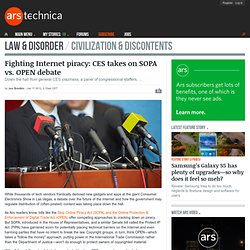 As Ars readers know, bills like the Stop Online Piracy Act (SOPA) and the Online Protection & Enforcement of Digital Trade Act (OPEN) offer competing approaches to cracking down on piracy. But SOPA, introduced in the House of Representatives, and a similar Senate bill called the Protect IP Act (PIPA) have garnered scorn for potentially placing technical barriers on the Internet and even harming parties that have no intent to break the law. Copyright groups, in turn, think OPEN—which takes a "follow the money" approach, putting power in the International Trade Commission rather than the Department of Justice—won't do enough to protect owners of copyrighted material.
Forget SOPA: Copyright owners must build a better BitTorrent. While copyright owners test the legal limits of website takedown processes and push legislation greatly expanding powers to limit file sharing on the open Internet, a company that helps corporations protect intellectual property argues there is a better way: create more user-friendly services for acquiring legitimate content.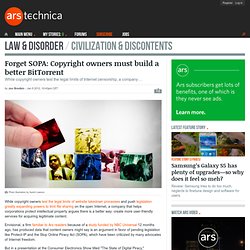 Envisional, a firm familiar to Ars readers because of a study funded by NBC Universal 12 months ago, has produced data that content owners might say is an argument in favor of pending legislation like Protect-IP and the Stop Online Piracy Act (SOPA), which have been criticized by many advocates of Internet freedom. But in a presentation at the Consumer Electronics Show titled "The State of Digital Piracy," Envisional's head of piracy intelligence, David Price, said the large levels of pirated content downloaded on sites and BitTorrent proves something else: that content owners aren't offering enough legitimate, user-friendly avenues to get content. CloudFlare named "tech pioneer" after protecting LulzSec website. Who knew that keeping the LulzSec website operational would lead to a technology award?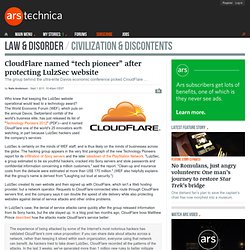 The World Economic Forum (WEF), which puts on the annual Davos, Switzerland confab of the world's business elite, has just released its list of "Technology Pioneers 2012" (PDF)—and it named CloudFlare one of the world's 25 innovators worth watching, in part because LulzSec hackers used the company's services. LulzSec is certainly on the minds of WEF staff, and is thus likely on the minds of businesses across the globe. The hacking group appears in the very first paragraph of the new Technology Pioneers report for its infiltration of Sony servers and the later takedown of the PlayStation Network. Indie filmakers tackle indie games in Indie Game: The Movie. It's sometimes easy to forget that games are made by people.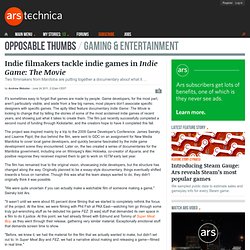 Game developers, for the most part, aren't particularly visible, and aside from a few big names, most players don't associate specific designers with specific games. The aptly titled feature documentary Indie Game: The Movie is looking to change that by telling the stories of some of the most acclaimed indie games of recent years, and showing just what it takes to create them. The film just recently successfully completed a second round of funding through Kickstarter, and the creators hope to have it completed this fall. The project was inspired mainly by a trip to the 2009 Game Developer's Conference. James Swirsky and Lisanne Pajot, the duo behind the film, were sent to GDC on an assignment for New Media Manitoba to cover local game developers, and quickly became fascinated by the indie game development scene they encountered. German police seize Pirate Party servers, looking at Anon's toolkit. Acting on a French request for assistance, German police today confiscated German Pirate Party servers—apparently hoping to search the prominent collaboration tool widely used within Anonymous to select targets for attack.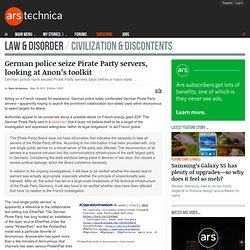 Authorities appear to be concerned about a possible attack on French energy giant EDF. The German Pirate Party said in a statement that it does not believe itself to be a target of the investigation and expressed willingness "within its legal obligations" to aid French police: The [Pirate Party] Board does not have information that indicates the necessity to take all servers of the Pirate Party off-line. According to the information it has been provided with, only one single public service on a virtual server of the party was affected. Capsized: a beautiful 2D side-scroller for the FPS crowd. When you crash-land on an alien planet, you find yourself alone and in constant danger.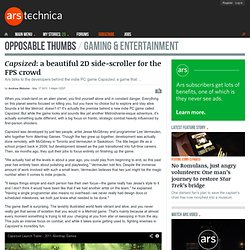 Everything on this planet seems focused on killing you, but you have no choice but to explore and stay alive. Sounds a bit like Metroid, doesn't it? It's actually the premise behind a new indie PC game called Capsized. But while the game looks and sounds like yet another Metroidvania-esque adventure, it's actually something quite different, with a big focus on frantic, strategic combat heavily influenced by first-person shooters. Capsized was developed by just two people, artist Jesse McGibney and programmer Lee Vermeulen, who together form Alientrap Games.
New bill upgrades unauthorized Internet streaming to a felony. Two months ago, US Intellectual Property Enforcement Coordinator Victoria Espinel produced her wishlist of changes to US law.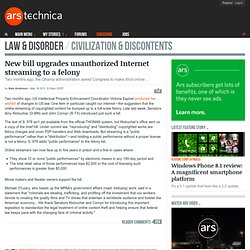 One item in particular caught our interest—the suggestion that the online streaming of copyrighted content be bumped up to a full-scale felony. Late last week, Senators Amy Klobuchar (D-MN) and John Cornyn (R-TX) introduced just such a bill. The text of S. 978 isn't yet available from the official THOMAS system, but Klobuchar's office sent us a copy of the brief bill. Under current law, "reproducing" and "distributing" copyrighted works are felony charges and cover P2P transfers and Web downloads. National Jukebox now online, serving up hits from the early 1900s. These days when a new music service launches itself, the sell is usually access to the latest cutting-edge content or classic pop genres.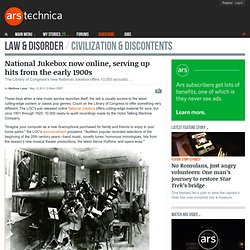 Count on the Library of Congress to offer something very different. The LOC's just released online National Jukebox offers cutting-edge material for sure, but circa 1901 through 1925: 10,000 ready-to-audit recordings made by the Victor Talking Machine Company. Privacy groups applaud Senator Rockefeller's "Do Not Track" bill. Senator Jay Rockefeller (D-WV) has introduced a new "Do Not Track" bill to Congress that aims to hold companies accountable for collecting information on consumers after they've expressed a desire to opt out.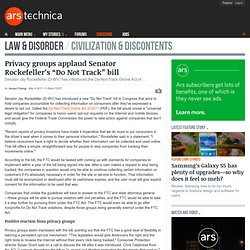 Called the Do-Not-Track Online Act of 2011 (PDF), the bill would create a "universal legal obligation" for companies to honor users' opt-out requests on the Internet and mobile devices, and would give the Federal Trade Commission the power to take action against companies that don't comply. "Recent reports of privacy invasions have made it imperative that we do more to put consumers in the driver's seat when it comes to their personal information," Rockefeller said in a statement. "I believe consumers have a right to decide whether their information can be collected and used online. This bill offers a simple, straightforward way for people to stop companies from tracking their movements online. " Senator questions Apple over iPhone tracking.
Sen.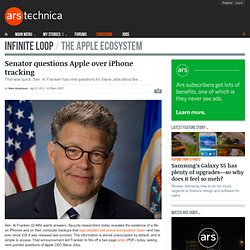 Al Franken (D-MN) wants answers. Security researchers today revealed the existence of a file on iPhones and on their computer backups that logs detailed cell phone triangulation data—and has ever since iOS 4 was released last summer. The information is stored unencrypted by default, and is simple to access. That announcement led Franken to fire off a two-page letter (PDF) today, asking nine pointed questions of Apple CEO Steve Jobs.
Franken first outlines scenarios in which the release of this data could pose a problem. Europe pledges to name and shame bad non-neutral ISPs. Europe's major new telecoms law comes into effect on May 25, and it avoids any explicit net neutrality rules. But European Commissioner Neelie Kroes, once known for hammering Microsoft during its European antitrust lawsuit, says she will personally keep an eye on any Internet problems that might arise from blocking, throttling, or lying about actual connection speeds. If problems arise that can't be solved simply by switching ISPs, Kroes says she's ready to legislate. In the meantime, she plans to shame ISPs into good behavior.
Europe's approach to net neutrality has always differed from that in the US. Pirate Bay becomes "Research Bay" to aid P2P researchers. The Cybernorms group at Sweden's Lund University has partnered with The Pirate Bay to "help researchers to better understand habits and norms within the file-sharing community"—and the site has temporarily rechristened itself "The Research Bay" in response. Cybernorms started in 2009 at Lund as a research project from a PhD student in the Sociology of Law department. The idea was to look at how real-world norms interact with laws concerning file-sharing, and early work in the field came to a stark conclusion.
A 2009 paper (PDF) based on initial Cybernorms research concluded first of all that there are "no social norms that hinder illegal file sharing. The surrounding imposes no moral or normative obstruction for the respondents file sharing of copyrighted content. " Furthermore, the research found that 75 percent of 15-25 year olds had no plans to stop swapping copyrighted files just because it was illegal. Oracle gives up on OpenOffice after community forks the project.
In a statement issued on Friday, Oracle announced that it intends to discontinue commercial development of the OpenOffice.org (OOo) office suite. The move comes several months after key members of the OOo community and a number of major corporate contributors forked OOo to create a vendor-neutral alternative. OOo is one of many open source software projects that Oracle obtained in its acquisition of Sun.
OOo has long been plagued by governance issues and friction between its corporate stakeholders. Sun's copyright assignment policies and bureaucratic code review process significantly hindered community participation in the project. European ad industry pushes new tracking, transparency rules. European advertisers have begun hopping on board with a new set of guidelines (PDF) that will allow users to block cookie tracking. The rules, developed by an industry group called the Internet Advertising Bureau Europe (IAB Europe), come just over a month before Europe is expected to issue its own legal guidelines for online advertisers.
The self-regulatory framework isn't just about avoiding being tracked—the goal is to offer transparency to consumers about which sites are using their cookie data, when, and for what purpose. Participating companies will display an icon on their behaviorally tracked advertisements that signifies that they're participating in the Online Behavioural Advertising (OBA) Framework. When people click the icon, they'll be able to get more information about the ads and have the option to turn off the ad's tracking element. P2P lawyer: more settlements since former-lobbyist judge's ruling. Last month, RIAA-lobbyist-turned-federal-judge Beryl Howell ruled that three mass P2P file-sharing lawsuits before her in Washington, DC could proceed. The Hollywood Reporter called it, rather hyperbolically, "the most important decision to date in the ongoing mass-litigation campaign" (several other federal judges had already come to opposite conclusions).
But Howell's work has had an impact—as far away as Illinois, more anonymous P2P defendants are coming forward to settle. So says Illinois' lone attorney bringing these mass P2P suits. John Steele, divorce-lawyer-turned-porn-copyright-specialist, has had a rough couple of months before judges for the Northern District of Illinois, based in Chicago. Report: Piracy a "global pricing problem" with only one solution. Alleged WikiLeaker could face death penalty. Net neutrality rules: coming December 21. Priority access deals could result in "slow suicide" for ISPs.
Did the Republican House landslide kill net neutrality? Judge realizes: on the Internet, no one can tell you're a kid. Fox throws anti-net neutrality pie at Cablevision in carriage wars. Former music label boss: beat piracy by selling albums for £1. P2P investigations now illegal in Switzerland. The end of used books, music, games? Court guts "First Sale" "Piracy" sounds too sexy, say rightsholders. Pirate Party membership plummets post Pirate Bay verdict. Back room net neutrality deal? Reform groups up in arms.
US goes after movie pirates in Estonia, counterfeiters in Tanzan. UK regulator: net neutrality rules bad for consumers.
---