Crafty Bitch
Victoria and Albert Museum - Patchwork: Pattern Maker. A quick tutorial : : book beads « the smallest forest. I haven't added any text instructions, because I think the photos are clear enough.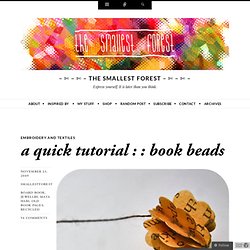 All that's left to do know is make a whole heap of these, in different shapes (but always symmetrical shapes!) And sizes, and stringing them up. This uses the same binding method used to make childrens board-books…the only difference is that you glue the front and back cover together, as well, and create a book in the round, without and ending or beginning…and that's some pretty heavy symbolism for a pretty paper bead! Have fun! Like this: 39 free apron tutorials | frugalandthriving.com.au. Posted on February 18 by Melissa Goodwin · 4 Comments I thought that aprons were a bit passé, but lately I need to wear an apron all the time.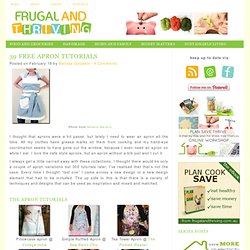 All my clothes have grease marks on them from cooking and my hand-eye coordination seems to have gone out the window, because I even need an apron on while I eat. I love the cafe style aprons, but an apron without a bib just won't cut it. I always get a little carried away with these collections. Life As Lou :: Magic Boxes: A Life As Lou Online Class :: January :: 2008. Due to popular demand, I am doing a tutorial on the Magic Boxes I showed off in some previous posts.
To begin, choose your paper. You need six sheets of matching paper (preferably a heavier weight). Choose one for your outside, budgeting for a contrasting one for your lid, and 4 to create the inside boxes. Cut as follows (all measurement are in inches): Quilling 101. Quilling, the coiling and shaping of narrow paper strips to create a design, has been around for years — hundreds, in fact.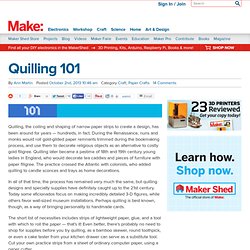 During the Renaissance, nuns and monks would roll gold-gilded paper remnants trimmed during the bookmaking process, and use them to decorate religious objects as an alternative to costly gold filigree. Quilling later became a pastime of 18th and 19th century young ladies in England, who would decorate tea caddies and pieces of furniture with paper filigree.
---