DIY
DIY - MAKE YOUR OWN WAX FOR HAIR REMOVAL - Fashion + Beauty on Shine. I was chatting with someone on my flight back from my vacation.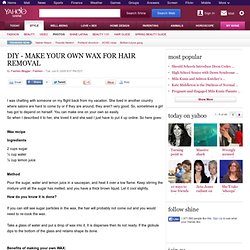 She lived in another country where salons are hard to come by or if they are around, they aren't very good. So, sometimes a girl has got to depend on herself. DIY Projects to Cure the Winter Break Boredom Blues. Hanukkah is over, Christmas is done, and the New Year's ball has dropped.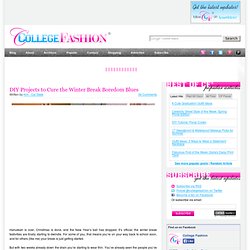 It's official: the winter break festivities are finally starting to dwindle. For some of you, that means you're on your way back to school soon, and for others (like me) your break is just getting started. But with two weeks already down the drain you're starting to wear thin. You've already seen the people you've wanted to see, shopped all your Christmas money away, and watched all the Millionaire Matchmaker reruns you can take. So what's a girl to do? DIY Flower Halo – HonestlyWTF. You'll start by cutting 2 circles from the piece of felt at approximately 2″ in diameter.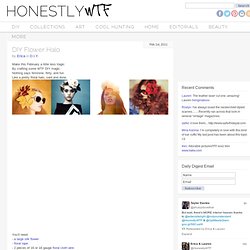 Form the wires of your halo by molding and bending each piece into a half circle. Lay the two half circles opposite of each other to create a single circle, laying it over the top of your head to check the fit. DIY Lace Earrings – HonestlyWTF. Dolce & Gabbana's Spring '11 collection undoubtedly furthered our already fanatical obsession with lace.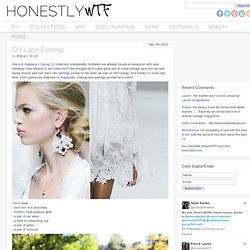 Honestly, how dreamy is the collection?! We thought we'd make good use of some vintage lace trim we had laying around and turn them into earrings similar to the ones we saw on the runway. And thanks to some tips from a DIY previously featured on Poppytalk, making lace earrings proved be a cinch! Mix equal parts glue to water in a bowl. Sailor's Knot Bracelets :: Etsy Blog.
With fall days of colored leaves, chunky sweaters and spiced cider in our future, it's just about time to pack up the beach gear until next year.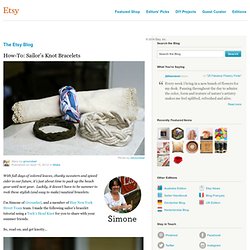 Luckily, it doesn't have to be summer to rock these stylish (and easy to make) nautical bracelets. I'm Simone of Groundsel, and a member of Etsy New York Street Team team. I made the following sailor's bracelet tutorial using a Turk's Head Knot for you to share with your summer friends. DIY Shibori – HonestlyWTF. Shibori is a Japanese term for methods of dyeing cloth by binding, stitching, folding, twisting, and compressing.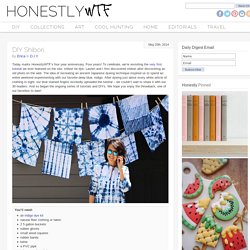 In Japan, the earliest known example of cloth dyed with the shibori technique dates back to the 8th century where indigo was the main dye used. We were immediately inspired by this fascinating technique, it's history and beauty. After much research, we decided to tackle 3 techniques of Shibori dyeing with an Indigo Tie Dye Kit, a few old white shirts and scarves, and several household items.
---