Mobile
Building Android Apps with HTML, CSS, and JavaScript. Open Feedback Publishing System (OFPS) is now retired.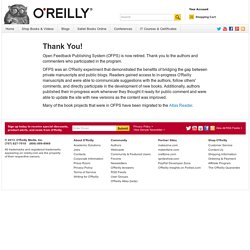 Thank you to the authors and commenters who participated in the program. OFPS was an O'Reilly experiment that demonstrated the benefits of bridging the gap between private manuscripts and public blogs. Readers gained access to in-progress O'Reilly manuscripts and were able to communicate suggestions with the authors, follow others' comments, and directly participate in the development of new books. Chirp.io - Let's teach the machines to sing. Jolla OS. Software architecture[edit] The architecture is: Hardware Sailfish OS is designed to run on embedded environments,[3] such as phones and tablets.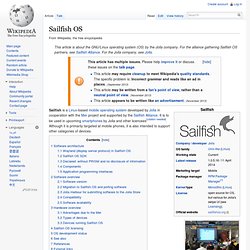 Kernel. Snowboarding. Top 11 Mobile Web Development Tools Used at Mobify. Whenever we give developer talks or host meetups, people are always curious – what tools do we use to build mobile websites at Mobify?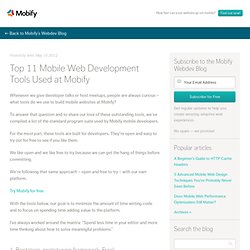 To answer that question and to share our love of these outstanding tools, we've compiled a list of the standard program suite used by Mobify mobile developers. For the most part, these tools are built for developers. IBM and the Eames Office: Minds of Modern Mathematics iPad app. Polytechnique veut faire payer les pantouflards. LE MONDE | • Mis à jour le | Par Benoît Floc'h Révolution à Polytechnique.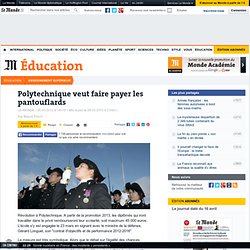 A partir de la promotion 2013, les diplômés qui iront travailler dans le privé rembourseront leur scolarité, soit maximum 45 000 euros. Mobile Web Design | Best Mobile Websites | Mobile Website Gallery. ZOMBIES, RUN! [TUT]Roll Your Own PirateBox! PirateBoxMobile. PirateBox Mobile | PAW Intergrated Find Jochen's intergrated version here.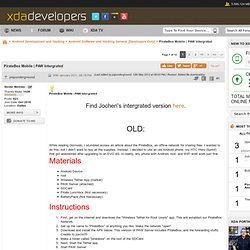 While reading Gizmodo, I stumbled across an article about the PirateBox, an offline network for sharing files. I wanted to do this, but I didn't want to buy all the supplies. Instead, I decided to use an old Android phone, my HTC Hero (Sprint) that got abandoned after upgrading to an EVO 4G. Qwiki. SpringMesh for iPhone and iPad - an interactive cloth you can twist, pull and deform using multitouch or gravity. Top 10 Mobile Web Development JavaScript Frameworks. Creating web apps and sites for the Mobile Web has its own sets of challenges and techniques.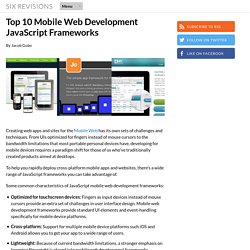 From UIs optimized for fingers instead of mouse cursors to the bandwidth limitations that most portable personal devices have, developing for mobile devices requires a paradigm shift for those of us who've traditionally created products aimed at desktops. To help you rapidly deploy cross-platform mobile apps and websites, there's a wide range of JavaScript frameworks you can take advantage of. 10 New Frameworks for Mobile Web App Developers. One certain limitation in Web development is time and how long it takes to get things up and running.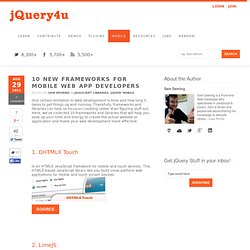 Thankfully, frameworks and libraries can help us focus on creating rather than figuring stuff out. Here, we've collected 10 frameworks and libraries that will help you save up your time and energy to create the actual website or application and make your web development more effective. 1. DHTMLX Touch Is an HTML5 JavaScript framework for mobile and touch devices. App!collector. QR-Code Generator. Identité(s) Numérique(s) Mobile(s) [EnsadLab] 25 Best New Android Games And Live Wallpapers From The Last 2 Weeks (5/19/11 - 6/1/11) Welcome to the weekly roundup of the best new Android games and live wallpapers that went live in the Market or were spotted by us in the previous 2 weeks or so.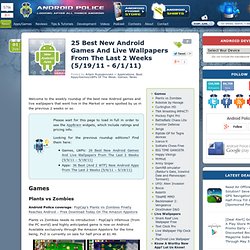 Games Plants vs Zombies Android Police coverage: PopCap's Plants Vs Zombies Finally Reaches Android – Free Download Today On The Amazon Appstore. 10 Excellent Tools for Testing Your Site on Mobile Devices. With the ever-increasing sales of smartphones and the burgeoning tablet market starting to skyrocket, coupled with far greater access to more robust mobile data networks, the internet is now being accessed by our users in a multitude of new ways.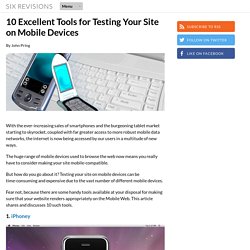 The huge range of mobile devices used to browse the web now means you really have to consider making your site mobile-compatible. But how do you go about it? Testing your site on mobile devices can be time-consuming and expensive due to the vast number of different mobile devices. BrowserCam : Browser testing and cross browser compatibility testing products and tools, including free cross browser testing tool.
Mobile Web Design: Best Practices. The explosion in user adoption of mobile devices has revolutionized the web.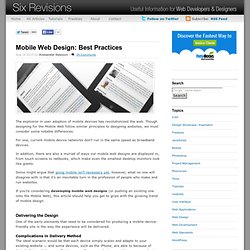 Though designing for the Mobile Web follow similar principles to designing websites, we must consider some notable differences. For one, current mobile device networks don't run in the same speed as broadband devices. In addition, there are also a myriad of ways our mobile web designs are displayed in, from touch screens to netbooks, which make even the smallest desktop monitors look like giants. Testing mobile web apps with Android SDK « Luke Ashe-Browne. jQTouch — jQuery plugin for mobile web development.
Naandi. First Orbit - Android Market. On the 12th April 1961 Yuri Gagarin climbed into his spaceship and was launched into space. It took him just over 100 minutes to orbit Earth and he returned as the World's very first spaceman. He didn't have an Android Phone to capture what he saw to share with the world, so fifty years on we have gone back and filmed it all again for you to enjoy.
You can find out how we did it and watch the full length free film at www.firstorbit.org But if you want to experience a speedier view of what Yuri witnessed on his pioneering flight then this is the app for you! We've condensed our new view into 100 seconds - which is the equivalent of orbiting the Earth at over 1 million miles an hour!
Google. Products – Alphonso Labs. Titanium Mobile Application Development. TerminauxAlternatifs.fr. Design For Mobile conference - Home. IPad applications for domotics | Domotic Point. Prodigy® - Products - Simple & Affordable Home Control Systems [Crestron Electronics, Inc.] Flipboard for iPad. L'avenir de l'informatique est-il au mobile ou au tactile ? Les deux (en partie) L'avez-vous senti ? Le vent du changement ? Tout a commencé avec la sortie de l'iPhone, puis les netbooks et maintenant l'iPad.
L'outil informatique est en train de réaliser sa mue. Une mutation qui a été mise en sommeil pendant deux décennies car la capacité d'innovation de l'industrie informatique était entièrement dédiée à la course à la puissance. Cette période est maintenant plus ou moins révolue dans la mesure où les utilisateurs (re)découvrent le plaisir d'usage des outils informatiques. Designupdate.com. Mobile HTML5.
---