Politics
The Democrats' peculiar negotiating strategy. Over the past year, Republicans have learned something important about negotiating budget deals with Democrats: If you don't like their offer, just wait a couple of months.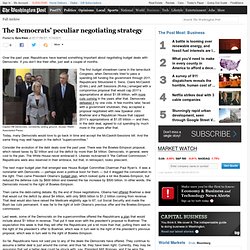 Capitol Hill Democrats, constantly ceding ground. (Susan Walsh - Associated Press) The first budget showdown came in the lame-duck Congress, when Democrats tried to pass a spending bill funding the government through 2011. Republicans filibustered it. Sens. The Woman Who Knew Too Much | Politics. This Wall Street psychosis—"We did nothing wrong, but everyone is trying to hurt us"—was given a dramatic airing in June by Jamie Dimon, the chairman of JPMorgan Chase, at a conference in Atlanta.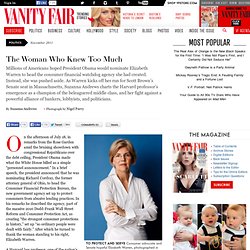 Clearly agitated during a Q&A with Federal Reserve chairman Ben Bernanke, Dimon launched into the reasons why the regulators were being too tough on banks. The causes of the financial crisis had been dealt with. "Most of the bad actors are gone," he said, rattling off a long list of the perpetrators, which included C.D.O.'s, Fannie Mae, Freddie Mac, "thrifts, all the mortgage brokers, and, uh, obviously some banks." He said that he worried that Dodd-Frank was "holding us back at this point"—suggesting that the regulation of banks was the reason why the economy was not recovering.
Wonkbook: Should we try everything? Or try nothing? If you take the two parties at their word, Congress is currently gridlocked because Democrats and Republicans can't agree on the cause of our problems, which means they can't agree on the nature of their solutions.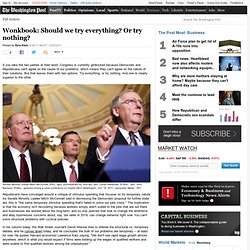 But that leaves them with two options: Try everything, or try nothing. And one is clearly superior to the other. Senate Minority Leader Mitch McConnell, R-Ky., right, accompanied by, from left, Sen. Lamar Alexander, R-Tenn., Sen. John Barrasso, R-Wyo., gestures during a news conference on Capitol Hill in Washington, Oct. 18, 2011.
Occupy Wall Street
Mitt: I Won't Detail Plans, Because Then I'd Lose. Mitt Romney has embraced a budget plan that would entail cutting federal programs other than defense and Social Security by more than half.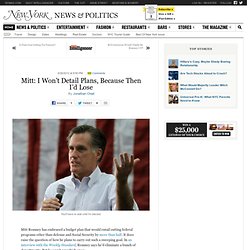 It does raise the question of how he plans to carry out such a sweeping goal. In an interview with the Weekly Standard, Romney says he'd eliminate a bunch of departments. But he won't say which ones: Reality Check: Effective U.S. Corporate Tax Rate Much Lower Than Most Other Developed Nations. By Pat Garofalo on March 30, 2012 at 5:45 pm "Reality Check: Effective U.S.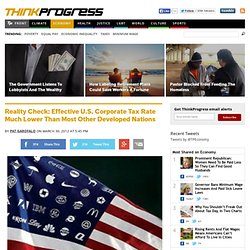 Corporate Tax Rate Much Lower Than Most Other Developed Nations" Republicans have been kvetching today about the fact that, as of Sunday, the U.S. will have the highest statutory corporate tax rate in the world following a scheduled cut in Japan's corporate tax. "The United States is a world leader in countless ways. 'World's Highest Taxes' is a title we should give up as soon as possible," wrote Sen.
Why Is the GOP Suddenly Turning Against College? - James Kwak - Business. Rick Santorum called universities "indoctrination mills.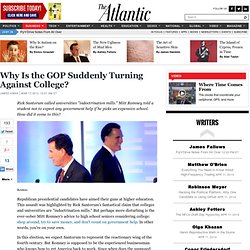 " Mitt Romney told a student not to expect any government help if he picks an expensive school. How did it come to this? Reuters Republican presidential candidates have aimed their guns at higher education. This assault was highlighted by Rick Santorum's fantastical claim that colleges and universities are "indoctrination mills. " Occupy Wall Street. The GOP Establishment Is Finally Panicking About All The Dopes Running For President. The gaffe that broke the camel's back?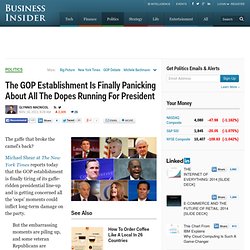 Michael Shear at The New York Times reports today that the GOP establishment is finally tiring of its gaffe-ridden presidential line-up and is getting concerned all the 'oops' moments could inflict long-term damage on the party. But the embarrassing moments are piling up, and some veteran Republicans are beginning to wonder whether the cumulative effect weakens the party brand, especially in foreign policy and national security, where Republicans have typically dominated Democrats. "It is an 'Animal House.' Is The GOP Getting Too Callous For The Religious Right. Mitt Romney's unexplored vulnerability: His millionaire tax rate - The Plum Line. Posted at 03:49 PM ET, 10/20/2011 Oct 20, 2011 07:49 PM EDT TheWashingtonPost A few weeks ago, Paul Begala, one of the operatives behind the Obama-allied group Priorities USA Action, emailed me an offhand gag: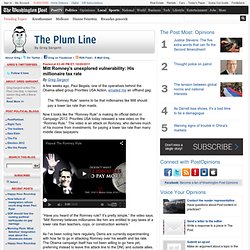 Meet The Man Who Has 279 Members Of Congress In His Pocket. AP Photo/Yuri Gripas Grover Norquist, the founder and head of Americans For Tax Reform, is arguably the most powerful non-elected person in Washington — and in many ways he is more powerful than even the Speaker of the House.
He's the keeper of "The Pledge," the 60-some-odd promise never to raise taxes, that has become a virtual requirement for Republicans running for state or federal office.
---