Web
Knowledge. Group Buying. SEO. Web Apps With Push Notifications: W3C Begins Work to Make it Hap. Real-time alerts and notifications are a powerful feature being added to more applications every day; the addition of real-time notifications can make a big difference in user experience and peoples' work performance when using apps.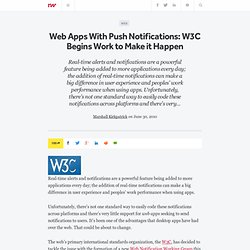 Unfortunately, there's not one standard way to easily code these notifications across platforms and there's very little support for web apps seeking to send notifications to users. It's been one of the advantages that desktop apps have had over the web. That could be about to change. The web's primary international standards organization, the W3C, has decided to tackle the issue with the formation of a new Web Notification Working Group this week.
Trends. Webmastering. Social Media. Semantic Web. eCommerce.
---