Twitter
Calculating and Improving Your Twitter Click-through-Rate. As marketers, many of us leverage Twitter as a direct traffic tool - sharing URLs via the service to encourage clicks and visits to help increase awareness, branding and possibly drive some direct actions (singups, sales, subscriptions, etc).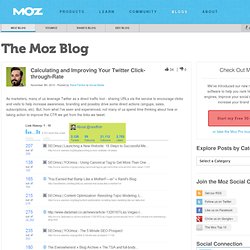 But, from what I've seen and experienced, not many of us spend time thinking about how or taking action to improve the CTR we get from the links we tweet. Given that I have 21K+ followers, but most of the links I tweet generate 150-250 clicks, my CTR is only averaging 1.34% As analytics junkies, we're well aware that we can only improve things that we measure, analyze and test. So let's look at a process for measuring our tweets, analyzing the data and testing our hypotheses about bettering our click-through-rates.
LinkedIn Deepens Integration With Twitter; Becomes A Full-Fledge. It's been no secret that LinkedIn has been steadily trying to make its platform more social and interactive with users.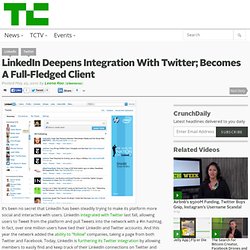 LinkedIn integrated with Twitter last fall, allowing users to Tweet from the platform and pull Tweets into the network with a #in hashtag. In fact, over one million users have tied their LinkedIn and Twitter accounts. Twitter: A new box-office oracle? Want to know how "Clash of the Titans" will fare at the box office this weekend?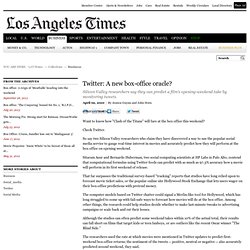 Check Twitter. So say two Silicon Valley researchers who claim they have discovered a way to use the popular social media service to gauge real-time interest in movies and accurately predict how they will perform at the box office on opening weekend. Sitaram Asur and Bernardo Huberman, two social computing scientists at HP Labs in Palo Alto, contend that computational formulas using Twitter feeds can predict with as much as 97.3% accuracy how a movie will perform in its first weekend of release. That far surpasses the traditional survey-based "tracking" reports that studios have long relied upon to forecast movie ticket sales, or the popular online site Hollywood Stock Exchange that lets users wager on their box-office predictions with pretend money. Holy Cow Did Twitter's Top Investor Drop A Bombshell On Twitter.
What Type Of Twitterer Are You? Find Out Here! Twitter is fast growing and even in my country it is now ranked number 8 on the scale of the most used sites (from digital lab stats presented last April 16).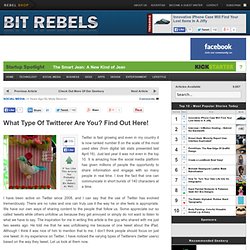 Just last year it was not even in the top 10. It is amazing how the social media platform has given millions of people the opportunity to share information and engage with so many people in real time. I love the fact that one can communicate in short bursts of 140 characters at a time. I have been active on Twitter since 2008, and I can say that the use of Twitter has evolved tremendously. There are no rules and one can truly use it the way he or she feels is appropriate. NSFW: Cherchez la fame – or why the media's obsession with Twitt. Time was, companies knew how to keep track of their important customers.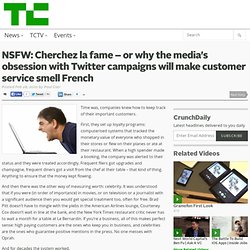 First, they set up loyalty programs: computerised systems that tracked the monetary value of everyone who shopped in their stores or flew on their planes or ate at their restaurant. When a high spender made a booking, the company was alerted to their status and they were treated accordingly. From Social Media to Social CRM : a recent experience with airli. I already wrote many posts about social CRM on this blog and I recently had the (unfortunate ?)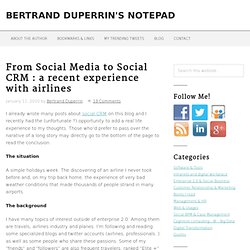 Opportunity to add a real life experience to my thoughts. Those who'd prefer to pass over the narative of a long story may directly go to the bottom of the page to read the conclusion. The situation.
---