Misc
Docs. Le Monde. Origami. Paris Déchiffré. Welcome to Facebook - Log In, Sign Up or Learn More. Google. Google. Extremely Rare Color Photography of Early 1900s Paris « Curious Eggs Curious Eggs. Although some of these images might look like a modern day photography and some of them like painted pictures, actually it is real colored photographies, taken at the beginning of the 20th century Paris (France).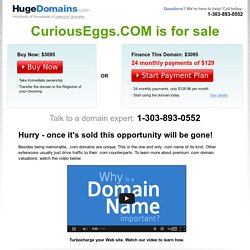 It is extremely astonishing to look at the world now long gone, the world which you are used to see in black & white images and often with poor quality. All the images shown below were taken using Autochrome Lumière technology. It's an early color photography process, patented in 1903 and invented by the famous French Auguste and Louis Lumière, populary known as Lumière Brothers.
They were the earliest filmmakers in history. So, here it is! Is the book a crucial cultural artefact, or just an outdated container for content? If you've been following our coverage of the disruption of the publishing industry, you know that the meaning of the term "book" has become pretty fluid, thanks to the e-book revolution; and it's not just the Kindle, but new offerings like Byliner and Atavist, which blur the lines between books and magazines, and even new variations on an old format like serialized fiction.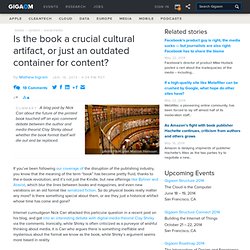 So do physical books really matter any more? Is there something special about them, or are they just a historical artifact whose time has come and gone? Internet curmudgeon Nick Carr attacked this particular question in a recent post on his blog, and got into an interesting debate with digital-media theorist Clay Shirky via the comments. Ironically, while Shirky is often criticized as a purveyor of wishful thinking about media, it is Carr who argues there is something ineffable and mysterious about the format we know as the book, while Shirky's argument seems more based in reality.
Poker. Personnages one piece. La carte des terrasses de Paris. Terrasse flottante Ici, on se dore la pilule mieux que nulle part ailleurs.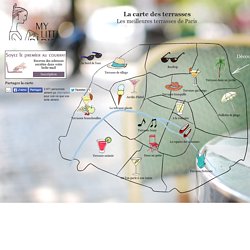 Cette péniche un poil déglinguée est un véritable jardin flottant sur les berges de Seine. Laissez-vous bercer par le clapotis de l'eau au milieu de plantes sauvages. Ouf, on respire. Quai François Mauriac, Port de la Gare, 75013 Heure d'ensoleillement : toute l'après-midi La péniche El Alamein Bibliothèque François Mitterand.
Press. Cool articles. How to Find the Right Bathroom. Busting an iPhone thief. Monday - The Setup The whole thing started when my plane landed in Los Angeles on Monday afternoon at 2:55pm coming from Cabo San Lucas.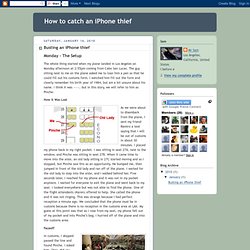 The guy sitting next to me on the plane asked me to loan him a pen so that he could fill out his customs form. I watched him fill out the form and clearly remember his birth year of 1984, but am a bit unsure about his name. I think it was -----, but in this story, we will refer to him as Pinche. 8 Coolest Office Spaces, Ever. Google Office Zurich There are few jobs that don't require at least a minimum amount of creativity.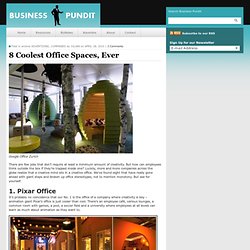 But how can employees think outside the box if they're trapped inside one? Luckily, more and more companies across the globe realize that a creative mind sits in a creative office. Unique and Creative Bottle Openers. The most creative and unusual bottle openers that will help you open your favorite beverage in style.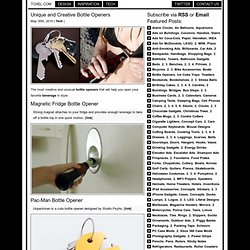 Magnetic Fridge Bottle Opener Strong magnet attaches to your fridge and provides enough leverage to take off a bottle top in one quick motion. [link] Pac-Man Bottle Opener Unpackman is a cute bottle opener designed by Studio Psyho. 30 Headlines and Ads That Prove People Don't Think | Communicati. How To Watch The World Cup LIVE Online.
» New York Times 50 Most Challenging Words (defined and used) - The New York Times recently published a list of 50 fancy words that most frequently stump their readership.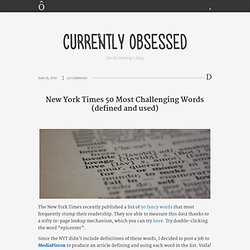 They are able to measure this data thanks to a nifty in-page lookup mechanism, which you can try here. Try double-clicking the word "epicenter". Since the NYT didn't include definitions of these words, I decided to post a job to MediaPiston to produce an article defining and using each word in the list.
Finance
The 10 Most Successful Crowd-Funded Projects From Kickstarter. Here's another neat little doodad that was able to raise a huge pile of money.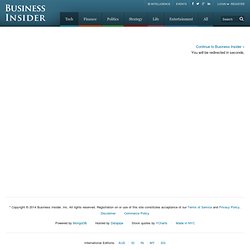 Schuyler Towne, a "competitive lockpicker" wanted to make his own tools for picking locks. He managed to raise $87,407, way above the $6,000 he wanted. Untitled.
---