Hiring & HR
Recruiting Developers? Create An Awesome Candidate Experience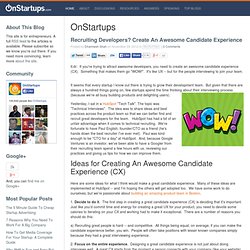 Recruiting Developers? Create An Awesome Candidate Experience tl;dr: If you're trying to attract awesome developers, you need to create an awesome candidate experience (CX). Something that makes them go "WOW!". It's like UX -- but for the people interviewing to join your team. It seems that every startup I know out there is trying to grow their development team.
Dr. Dana Ardi is a friend, former colleague, and an expert in the fields of talent management, organizational design, assessment, leadership, coaching, and recruiting. Dana has taught me a ton about these areas and was a partner at Flatiron Partners where we made a big investment in the talent side of the business. I asked Dana to "bat cleanup" on this series on People and she's done that in fine form with snippets from her coming book on Betas, the new archetype of organizational leader. "When someone asks you, A penny for your thoughts, and you put your two cents in, what happens to the other penny?" It's a really great question, as well as being one of my favorite among many George Carlin quotes.
MBA Mondays: Guest Post From Dr. Dana Ardi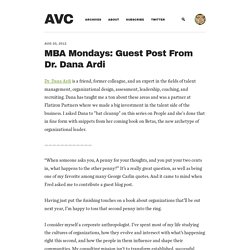 Tony Hsieh of Zappos advice on entrepreneurship
Exclusive Interview With Zappos CEO Tony Hsieh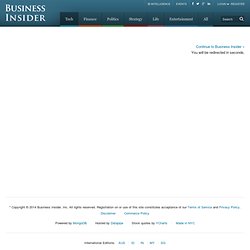 Our guest today is Tony Hsieh, the CEO of Zappos, the footwear and apparel company online that was sold to Amazon last year for more than a billion dollars. Let's talk to Tony. So, welcome Tony. You sold Zappos to Amazon about a year ago now. A lot of people were worried at the time; okay, it's going to wreck the culture. It's such a strange move for the company.
Speaking frankly about my stuff
Watch this. When you're done, watch it … « Everywhere Else
How To Create A Corporate Culture Of Innovation
Journeymen, Mavericks & Superstars: Understanding Salespeople at
What Makes A Kick-Ass Tech Team?
( Editor's note: Scott Weiss is the former co-founder and CEO of IronPort Systems. He submitted this column to VentureBeat.) Developing a good, healthy culture is extremely important at a startup. Culture reflects the essence of a startup's operation because it directly affects the success of a company's hiring practices and overall strategy.
20 rules of thumb for building a great startup culture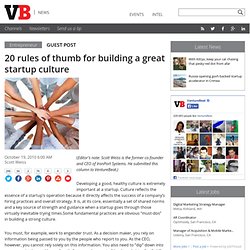 Brian K Balfour · The One "Process" Every Startup Should Have
Most young entrepreneurs (including myself) have an allergic reaction to anything with the word "process" in it. So before you break out in hives and curl up in ball with cold sweats, take a Benadryl and hear me out. There is one area that every startup, no matter what stage you are at, should have a process for. Hiring . Why? Time - Hiring is one of the most time consuming tasks for you and your team.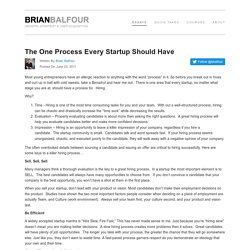 by Tony Schwartz | 1:22 PM February 21, 2012 "My manager expects me to be at my desk from 9 to 5," a highly successful salesperson lamented during a break at a session I was delivering at a progressive company in Silicon Valley. "I love my job," she went on, "but I have an hour and fifteen minute commute each way, and it's just wearing me down." "Could you do your work from home?"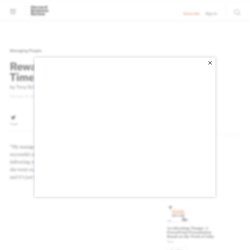 Reward Value, Not Face Time - Tony Schwartz