Entrepreneurship
Nat Turner (Startup sales strategy)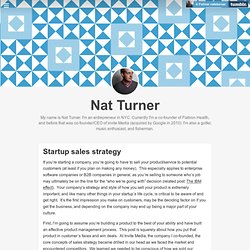 If you're starting a company, you're going to have to sell your product/service to potential customers (at least if you plan on making any money). This especially applies to enterprise software companies or B2B companies in general, as you're selling to someone who's job may ultimately be on the line for the "who we're going with" decision (related post: The IBM effect). Your company's strategy and style of how you sell your product is extremely important, and like many other things in your startup's life cycle, is critical to be aware of and get right.
Startup Lifecycle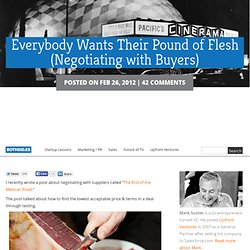 I recently wrote a post about negotiating with suppliers called "The End of the Mexican Road." The post talked about how to find the lowest acceptable price & terms in a deal through testing. In the post I made clear that I believe that all negotiations should seek to find fair deals where both parties can feel good about the outcomes. But that doesn't mean always just saying "let's split the terms 50/50 down the middle." Often that doesn't make sense.
Everybody Wants Their Pound of Flesh (Negotiating with Buyers)
Editor's note: Ben Horowitz is co-founder and general partner of Andreessen Horowitz. He was a co-founder and CEO of Opsware (formerly Loudcloud), which was acquired by HP, and ran several product divisions at Netscape. He serves on the board of companies such as Capriza, Foursquare, Jawbone, Lytro, Magnet, NationBuilder, Nicira, Okta, SnapLogic and Tidemark, and blogs at http://bhorowitz.com/. "Don't admit that your faith is weak Don't say that you feel like dying Life's hard then it feels like diamonds Your home's just far too gone Much too late to even feel like trying Can't understand what I'm saying Can't figure out what I'm implying If you feel you don't wanna be alive You feel just how I am" —Lupe Fiasco, Beautiful Lasers
The Struggle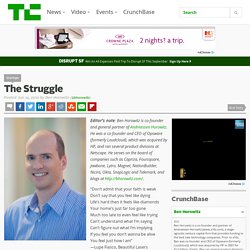 57 things I've learned founding three companies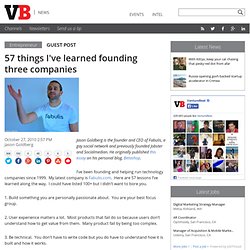 Jason Goldberg is the founder and CEO of Fabulis, a gay social network and previously founded Jobster and Socialmedian. He originally published this essay on his personal blog, Betashop. I've been founding and helping run technology companies since 1999. My latest company is Fabulis.com. Here are 57 lessons I've learned along the way. I could have listed 100+ but I didn't want to bore you.
In my last post, I discussed why the odds of a rookie entrepreneur getting seed financing from a VC are very slim. The reality is that less than 5% of venture money goes to seed-stage startups; VCs typically invest when a company has a working product, a tested business model, and a strong management team. It's the entrepreneurs who take the risk; not the VCs. They beg and borrow money from friends and family, max out their credit cards, and sometimes make do by living at home with their parents.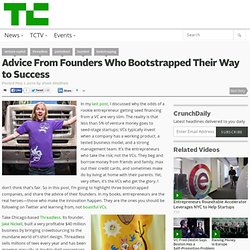 Advice From Founders Who Bootstrapped Their Way to Success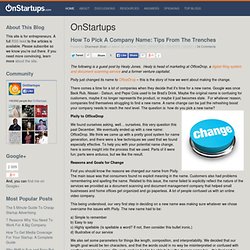 How To Pick A Company Name: Tips From The Trenches
Very interesting post. I went through a similar exercise (outcome not yet implemented) some months ago. My most important lesson was that getting customer opinions on board is a double-edged sword. Customers want the name to reflect what they think you are, today; you, as an entrepreneur/ leader, want the name to be 'future proof'.
Having a catchy name for your business or product is more important than ever. A memorable name will help people find your company's website, Twitter feed or Facebook page or find related reviews or apps. Even a great product or company will lose some of its shine if customers and potential customers can't locate it on the Internet. In the era of social media a name or logo can be the primary way a company is identified in every nook and cranny of the Internet. This is the domain of trademark law.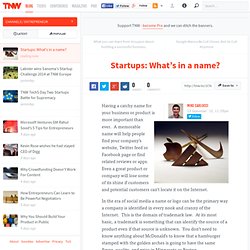 Startups: What's in a name?
The 13 Best Business Lessons From "Rework"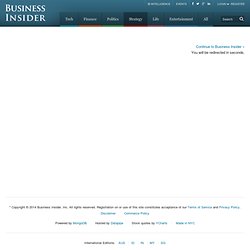 Rework, by 37signals' Jason Fried and David Heinemeier Hansson, has been floating around the top of the New York Times' best-selling business books list ever since it came out. After hearing so much praise for the simple genius of its lessons, we had to check it out for ourselves. We tore through it in just a few hours, and, we have to say, its clarity and insights are pretty brilliant.
Building your network is just one part of networking; what happens when you need a favor? Reaching out to a contact is often the aspect of networking that makes people most uncomfortable. But the exchange shouldn't be awkward. If you've developed the relationship well, that favor will come naturally.
How To Network Like A Pro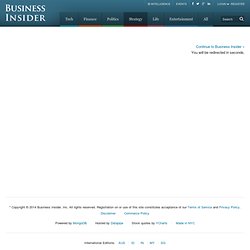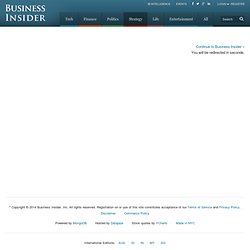 People like to talk about themselves and by now we all know that people refer business to people they like and respect. When you give others the time to tell their story and explain their business, your stock automatically rises in their eyes. Throw in the fact that you've got a top-flight product or service--don't worry, eventually the other guy will wind down and you'll get to talk about yourself--and you'll see how it's a lot easier than many people think to create a solid referral partner. All it takes are the right questions.
5 Questions The Best Networkers Ask
How To Turn Personal Posts Into Good Business Blogging
John is business development manager of Accent Inns. Notice that his post isn't about Accent Inns or the lodging business or travel in British Columbia; and it starts out recommending camping, not staying in an Accent Inn. However, I think it still fits, somehow, with John's business position. Here I am blogging about Accent Inns, because of his post.