Physics
Get flash to fully experience Pearltrees
How to Study Physics Look at the weekly flow chart for studying of physics! http://apphysicsb.homestead.com/study.html How to Study Physics From how to make notes to how to work problems and study for exams, this is a multiple chapter handout. Lots of reading, but worth it.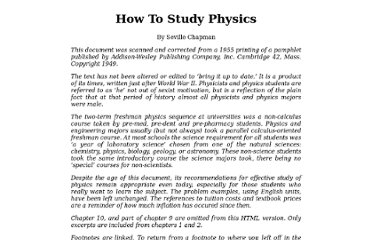 By Seville Chapman This document was scanned and corrected from a 1955 printing of a pamphlet published by Addison-Wesley Publishing Company, Inc. Cambridge 42, Mass. Copyright 1949.
Teacher Online Standardisation (T-OLS) The Teacher Online Standardisation system is now live. How to use online standardisation Log in to e-AQA with your personal e-AQA login. Select 'Teacher online standardisation' from the list of services in e-AQA. Select your subject in the online standardisation system.