Security Tools
Unremote Security
SecTools.Org: Top 125 Network Security Tools For more than a decade, the Nmap Project has been cataloguing the network security community's favorite tools. In 2011 this site became much more dynamic, offering ratings, reviews, searching, sorting, and a new tool suggestion form . This site allows open source and commercial tools on any platform, except those tools that we maintain (such as the Nmap Security Scanner , Ncat network connector , and Nping packet manipulator ). We're very impressed by the collective smarts of the security community and we highly recommend reading the whole list and investigating any tools you are unfamiliar with. Click any tool name for more details on that particular application, including the chance to read (and write) reviews.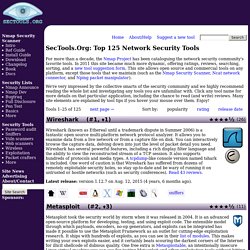 SecLists.Org Security Mailing List Archive
Any hacker will tell you that the latest news and exploits are not found on any web site—not even Insecure.Org . No, the cutting edge in security research is and will continue to be the full disclosure mailing lists such as Bugtraq. Here we provide web archives and RSS feeds (now including message extracts), updated in real-time, for many of our favorite lists.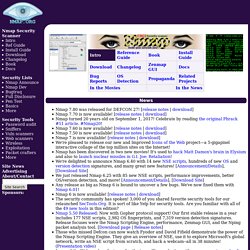 We're pleased to release our new and Improved Icons of the Web project—a 5-gigapixel interactive collage of the top million sites on the Internet! We've also launched a Kickstarter for a 36x24 inch poster version, but you need to order by January 17! Nmap has been discovered in two new movies! It's used to hack Matt Damon's brain in Elysium and also to launch nuclear missiles in G.I.
The Internet Protocol (IP) knows each logical host interface by a number, the so-called IP address. On any given network, this number must be unique among all the host interfaces that communicate through this network. Users of the Internet are sometimes given a host name in addition to their numerical IP address by their Internet service provider. The IP addresses of users browsing the world wide web are used to enable communications with the server of the web site. Also, it is usually in the header of email messages one sends.
IP Address Lookup (IPv4 & IPv6)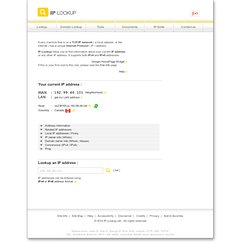 SecurityXploded by Nagareshwar Talekar
xWeasel - XDCC Download Client and Search Engine
Check if a website is down for everyone or just for you - Netirk.com
In a nutshell, IPVoid is a free service used to scan an IP address through multiple DNS-based blacklists and IP reputation services, to facilitate the detection of IP addresses involved in malware incidents and spamming activities. The usage is very simple, just insert the IP address in the form below and press the button. Benefits from using this service This service can be used by website owners to analyze the IP address of their own website to check if it is involved in malware incidents or in spamming activity. System administrators can use our service to analyze suspicious IP addresses found in log files generated by web servers or by honeypots and spam traps.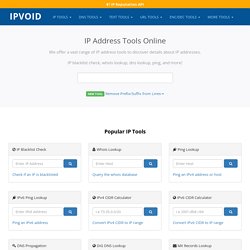 IMMUNITY : Knowing You're Secure
Ghost Security - Security Software, Freeware and Shareware
Scan PDF Documents for Exploits - PDFVoid.com BETA