Online Binary Analysers
Security Solutions and Information Technology - NoVirusThanks.org
Comodo Instant Malware Analysis
Online Virus Scan
Diese neue Domain wurde im Kundenauftrag registriert. Diese Seite wurde automatisch erstellt. Sie wird bei jeder neuen Domain hinterlegt und zeigt, dass die neue Domain erreichbar ist. Ohne diese Platzhalter-Seite würden Besucher eine Fehlermeldung erhalten. Als Kunde von united-domains können Sie diese Domain in Ihrem Domain-Portfolio jederzeit selbst online konfigurieren (z.B. Web-Weiterleitungen, E-Mail-Einstellungen, Webspace hinzubuchen, DNS-Einträge ändern).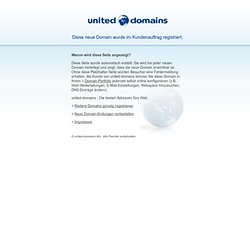 .: VirusTrap - Online Multi-engine Antivirus Scanner :.
Scan4You.biz - Online Anonymous Virus and Malware Scan
Wepawet » Home
Create una nuova cartella sul desktop Inserite al suo interno il file che riteniate possa essere infetto Zippate il file e salvatelo con la password suspectfile (estensioni accettate sono Zip, Rar e Cab) Per inviarci il file basterà cliccare sul tasto "Sfoglia", cercare il proprio file e premere il pulsante "Upload File" Non dimenticate di inserire la vostra e-mail altrimenti ci sarà impossibile inviarvi una risposta, se volete potete aggiungere una breve descrizione del problema ed anche il link del forum nel caso vi sia stato chiesto di uplodare il file qui da noi. Grazie per la collaborazione.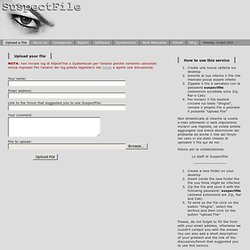 SuspectFile
Login | Sample Analysis System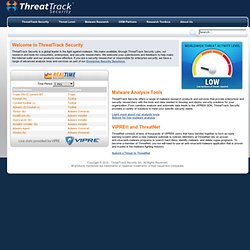 ThreatTrack Security offers a range of malware research products and services that provide enterprises and security researchers with the tools and data needed to develop and deploy security solutions for your organization. From sandbox analysis and automatic data feeds to the VIPRE® SDK, ThreatTrack Security provides a variety of solutions to meet your specific security needs. ThreatNet consists of tens of thousands of VIPRE® users that have banded together to form an early warning system when a new malware outbreak is noticed. Members of ThreatNet rely on proven anti-virus/anti-malware programs to search hard disks, identify malware, and delete rogue programs. To become a member of ThreatNet, you too will need to use an anti-virus/anti-malware application that is proven and trusted in the malware-fighting industry.
Sunbelt Software Security - Malware Research Labs
Norman
Joebox a secure Sandbox Application for Windows to analyse the Behaviour of Malware
Malware Analysis Internet Service : Eureka is a binary static analysis preparation framework. It implements a novel binary unpacking strategy based on statistical bigram analysis and coarse-grained execution tracing. Eureka incorporates advanced API deobfuscation capabilities to facilitate the structural analysis of the underlying malware logic.
Eureka Malware Analysis Page