Derivatives
BrowserLinux is a fast and small (93 Mb!) Linux distribution for surfing the web. Web-browser: Firefox 5.0.1 Flash 10.3 PDF-reader Music Player If you want a bigger operating system with OpenOffice a mediaplayer and more apps: don't use Browserlinux. Browserlinux is for browsing the web.
BrowserLinux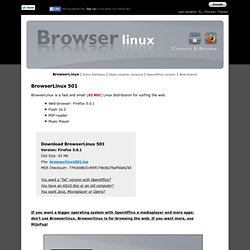 Macpup
SlimPup
SlimPup - Browse /SlimPup at SourceForge
Puplite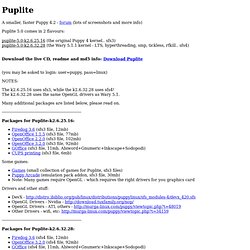 A smaller, faster Puppy 4.2 - forum (lots of screenshots and more info) Puplite 5.0 comes in 2 flavours: puplite-5.0-k2.6.25.16 (the original Puppy 4 kernel.. sfs3) puplite-5.0-k2.6.32.28 (the Wary 5.1.1 kernel - LTS, hyperthreading, smp, tickless, rfkill.. sfs4) Download the live CD, readme and md5 info: Download Puplite (you may be asked to login: user=puppy, pass=linux)
Turbopup Xtreme v1.0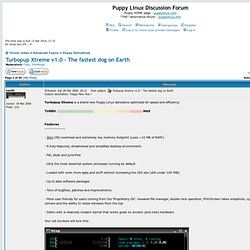 Turbopup Xtreme is a brand new Puppy Linux derivative optimized for speed and efficiency. Features ----------------- - Zero CPU overhead and extremely low memory footprint (uses ~10 MB of RAM!) - A fully-featured, streamlined and simplified desktop environment.