Information / interesting things
Skittles Vodka (with instructions)
Mimic Octopus
Kenyan solution for charging mobile phones - Episode 2 on Vimeo
Whether you're a designer, developer, animator, or blogger, your workstation plays a major role in how you get things done. Some of us like a neat, clean, and inspiring workspace, while others require a crazy over-the-top hardware configuration. In this article, we've compiled a showcase of photos that will give you workstation envy. The thing about workstations is that even if you have a nice one, seeing another awesome setup can make you a bit jealous. Here's some other articles that you will definitely find useful.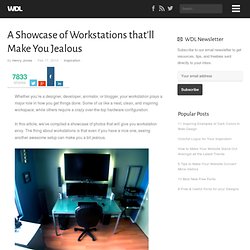 A Showcase of Workstations that'll Make You Jealous
Flash Earth - Zoom into satellite and aerial imagery of the Earth in Flash
s Lair: The Vault
Space Shuttle Discovery - 360VR Images
Resource Furniture: Italian-Designed Space Saving Furniture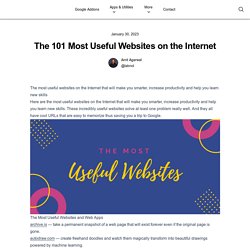 01 Aug 2012 The 101 Most Useful Websites on the Internet is a frequently updated list of lesser-known but wonderful websites and cool web apps. couch mode print story
The 101 Most Useful Websites on the Internet
100 Websites You Should Know and Use
Entertainment Meet David Peterson, who developed Dothraki for Game of Thrones There are seven different words in Dothraki for striking another person with a sword. Among them: "hlizifikh," a wild but powerful strike; "hrakkarikh,"a quick and accurate strike; and "gezrikh," a fake-out or decoy strike. But you won't find these words in George R.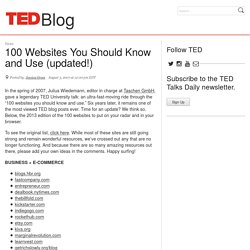 Box Office Guru
A Web & Mobile App for Reading Comfortably: Readability
Alles Schall und Rauch
Watch Free Horror Movies Online.
List of zombie films
Films[edit] The films in this category satisfy the following requirements: The zombies are presented in storyline as actual zombies. (For films that feature similar undead or merely have zombie in the title, see List of nominal zombie films)The film has been released.(For unreleased films, please see List of abandoned and in-progress zombie films.)The films are feature length, in this case greater than 59 minutes. (For short-films and anthologies that only feature a zombie-related segment, see List of zombie short films)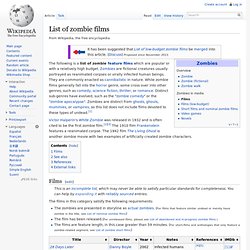 quakes
Verschwörungen, Komplotte & Intrigen
The Zeitgeist Movement
phun.org / phun.com - Adult Entertainment Blog
Vimeo, Video Sharing For You