Notebooks
Video: Meet the Office 2010 Beta 
Microsoft OneNote 2010 | Archive | Help Articles
Frequently Asked Questions 
What's New in OneNote 2010? 
Password-protect your notes in OneNote 2010 | Microsoft OneNote
File format changes in OneNote 2010 
Share notebooks in OneNote 2010 
Take linked notes in OneNote 2010 
We have been covering some shinny new features in Office 2010 for a few months now, and have brought you several detailed articles on Word 2010 , Excel 2010 , PowerPoint 2010 , and OneNote 2010 . It is time now to have a look at the new features in Outlook 2010. Outlook Social Connector (OSC) This is perhaps the greatest new addition to Outlook 2010 which you will definitely love to use. It brings the social views of your friends/contacts right in to your inbox. This connector provides you with a stream of content from SharePoint, Windows Live and other famous social networking sites.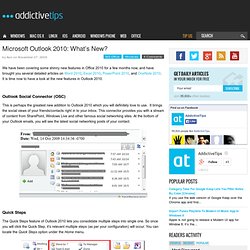 Microsoft Outlook 2010: What's New?
OneNote 2007 Screen Clipper and Launcher / ONENOTEM.EXE Program
ONENOTEM.EXE - Microsoft Office OneNote 2003 Quick Launch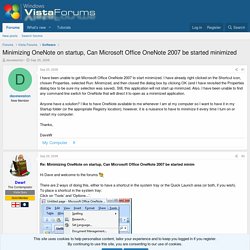 I have been unable to get Microsoft Office OneNote 2007 to start minimized. I have already right clicked on the Shortcut icon, chosen Properties, selected Run: Minimized, and then closed the dialog box by clicking OK (and I have revisited the Properties dialog box to be sure my selection was saved). Still, this application will not start up minimzed. Also, I have been unable to find any command line switch for OneNote that will direct it to open as a minimized application. Anyone have a solution?
Minimizing OneNote on startup, Can Microsoft Office OneNote 2007
The Ideal Note-Taking Tool for Today's Lawyer: Microsoft Of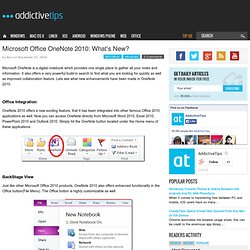 Microsoft Office OneNote 2010: What's New?
Microsoft OneNote is a digital notebook which provides one single place to gather all your notes and information. It also offers a very powerful build-in search to find what you are looking for quickly as well as improved collaboration feature. Lets see what new enhancements have been made in OneNote 2010. Office Integration
Notebook templates for OneNote ~ Vitamin CH - The cure for all c
OneNote notebooks - Templates - Microsoft Office Online
When you work in Microsoft Outlook, Microsoft Office OneNote 2007 buttons or OneNote 2010 buttons may be missing as follows: When you work in an e-mail item, the Send to OneNote button is missing. When you work in a calendar item or in a task item, the Notes About This Item or the Linked Meeting Notes button is missing. This issue may occur when the OneNote add-in is disabled in Outlook or if the Outlook Integration has not been installed.
OneNote 2007 buttons may be missing in Outlook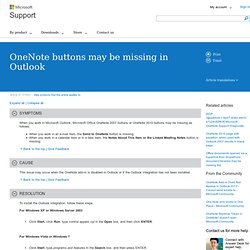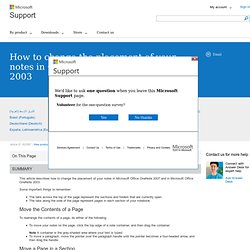 This article describes how to change the placement of your notes in Microsoft Office OneNote 2007 and in Microsoft Office OneNote 2003. Some important things to remember: The tabs across the top of the page represent the sections and folders that are currently open. The tabs along the side of the page represent pages in each section of your notebook.
How to change the placement of your notes in OneNote 2007 and in
Legal practice notebook - Templates - Microsoft Office Online
Clients notebook - Templates - Microsoft Office Online
Professional services notebook - Templates - Microsoft Office On
Personal notebook - Templates - Microsoft Office Online
Student notebook - Templates - Microsoft Office Online
Wedding planner notebook - Templates - Microsoft Office Online
School notebook - Templates - Microsoft Office Online
Legal trial notebook - Templates - Microsoft Office Online
Project management notebook - Templates - Microsoft Office Onlin
OneNote notebooks - Templates - Microsoft Office Online